The life of a support agent can be made simpler.
Kapture's new ticket-splitting feature helps agents create fresh tickets within existing threads when queries unrelated to the original issue are raised in the current conversation.
Why do I need to split an existing ticket?
Imagine a company that sells shirts receives a ticket from a customer – saying that he received his shirt but it's the wrong colour.
Back and forth conversations take place and the final order of the day is, the company is going to collect the shirt and send over another piece.
After a few days, the customer feels that he doesn't want another shirt – he just wants a refund. More importantly, he raises this request by replying to the same conversation thread about the return request.
Instead of creating a new ticket an agent need simply hit the little three-line button at the edge of the CRM screen and choose the – New ticket for current conversation option.
When this happens, a fresh new ticket is created based on this last piece of conversation between the customer and the company.
Ticket splitting can help you link the right department to the right query. Instead of the helpdesk team trying to figure out what a refund process looks like – they can simply create a new query and then based on the ticket task queue the right agent is notified on this new conversation.
Ticket Merging
Now let's assume – another customer contacted you via facebook regarding a tight shirt.
He also started engaging with your website chat – leading to a separate chat ticket being created around the same issue.
Instead of resolving each ticket separately – agents can simply merge these two queries into one single ticket.
Simply – choose the three-line button at the left of the screen and hit the option merge to bring these two tickets together.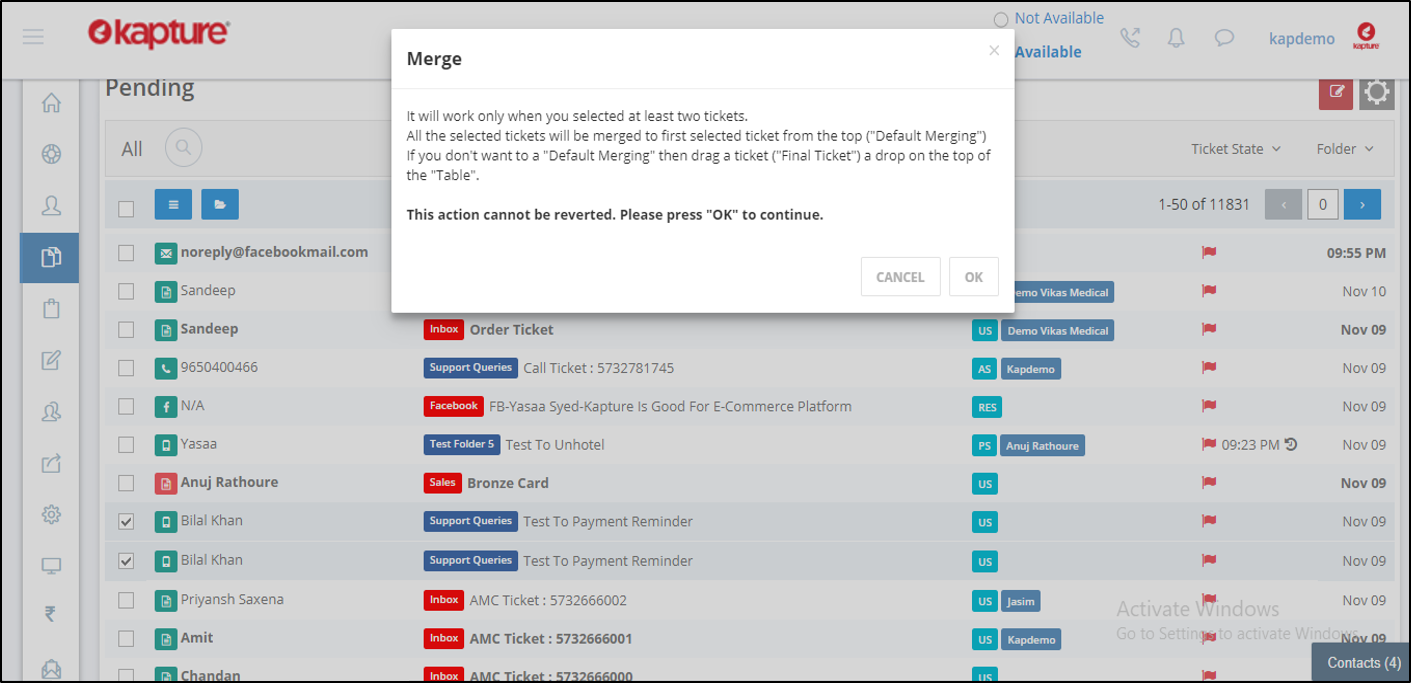 All tickets whether split or merged are assigned to an agent along with a custom SLA period for each (depending on which department the query has been allotted to).
Conclusion
The latest feature was designed in an effort to help helpdesk teams increase the effectiveness of their operations.
If a ticket is created for a certain department and customers begin asking question-related to another department – this feature helps in eliminating confusion and improving happiness ratings through prompt responses.
The Omnichannel ticketing inbox tags these tickets as High, medium or low priority queries based on keywords.
As soon as these new enquiries are created – agents can instantly get in touch with customers from the 360-degree tab.