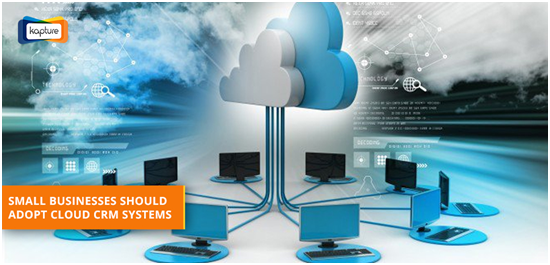 With rapidly growing competition in the market today, establishing or growing a small business is a tough ask. One thing that small businesses miss the most is a systemized and efficient technique to deal with their leads. Since you are a small business, you just cannot afford to lose out on any leads that come to you. This is where cloud-based mobile CRM software comes into play. A CRM software application helps you gather, manage and convert leads in a better manner, which results in generating more loyal customers for your business.
Understanding CRM for small businesses
A good CRM software is a tool that automates your business completely. Kapture CRM software makes your business run faster and gives you easy access to control it. The application tools are designed in a way that it maximizes the productivity for your business by integrating all the essentials under one roof. With Kapture CRM, right from managing, maintaining a track of activities, to gathering all the required insights of your business becomes easy. Basically, a CRM for your business means spending less time on managing and investing more time on selling your products and services.
Identifying the need for a CRM Software
As far as running a smooth and hassle-free business is concerned, every business needs CRM. Will it get the job done for you? Is it something you need to understand?
Whether you have a small or established business, keeping it organized always helps. If you're looking at the bigger picture, following the traditional way of managing business data won't help. The more you invest in growing your business, the more data you will end up collecting that you cannot afford to lose. Segregating the information based on your customers' preferences, demographics, interests, and contact information will surely help you in the longer run. This is when Kapture for your business comes into play.
Understanding the Features
Since CRM software offers many business management features, understanding and choosing the right feature for your type of business can be a tough task. Keeping the needs of a small business in mind, we suggest a few features that can work wonders for you.
Mobile Access for Better Performance
CRM solution providers are in abundance but only a few of them provide you with the option to go mobile-friendly. If your business is heavily dependent on the functioning of your sales team, then it is recommended that you opt for CRM software that is mobile-friendly. Doing this will help you track the performance of your sales team on-the-go and maximize productivity.
Not all CRM software offers you customizable features, and since you are doing business on a smaller scale, you would require the features to be flexible and customizable. So while choosing the right CRM solution for your business, make sure you go for the one which gives you customizable features.
Since you are a small business, before choosing any CRM software, it is essential for you to understand what features your business will require, and accordingly, choose the best CRM system. There are many CRM providers who offer you feature-specific services that may or may not meet your business requirements. Therefore, understanding the CRM before investing in it is highly recommended.
Streamlining your business data to third-party solutions saves you from spending time on performing repetitive tasks. Not every CRM software gives you access to perform third-party integration. Keeping that in mind, if you desire to invest in third-party portals to flow in some leads for you, then it is recommended that you opt for software that gives you the option to perform integration efficiently.
Opting for cloud-based CRM helps you cut down on your hardware cost and also provides you with increased storage space for all your business data.
Identifying the Benefits
The benefits of CRM software are many but understanding in what way the software can make it easier for your business is essential. You can keep track of your employee's performance, along with also keeping an eye on the progress of each deal without having to do much. You can end up saving loads of money and, most importantly, valuable time for your business. Since you will automate your entire business with the cloud-based lead management mobile app and software, you can now monitor all your leads closely and invest more time in converting those leads rather than wasting time on managing them.
"Choose Kapture CRM and leave the rest to us."