According to Oberlo, 81% of consumers conduct online research before making a purchase online.
From nail cutters to refrigerators, every basic thing you need in your life can be purchased online with just a few clicks. Ecommerce has become one of the most trending industries over the years and is flourishing and developing with each passing year. 
Customer service experience provided by the eCommerce platforms is the one thing that differentiates them from their competitors.
It is never simple for online business owners to handle their consumers' information. However, it is a crucial consideration for e-commerce companies seeking to grow income and sales.
Integrating your eCommerce platform with CRM software enables you to develop detailed customer profiles and appropriate marketing strategies based on their purchasing behavior. It also allows you to communicate with your consumers without leaving the platform, reducing your time and energy.
Retail e-commerce sales worldwide from 2014 to 2024
What is Shopify?
Shopify is one of the leading e-commerce platforms, with almost 20% market share- Pagely
Shopify is an e-commerce platform that allows you to create an online and offline store. Shopify is used by store owners. It enables you to sell both online (through your own website) and in-person (with Shopify POS). This eCommerce website builder includes features for everyone, from novices to seasoned eCommerce professionals.
If you are planning to start your own online on Shopify then it is absolutely essential for you to know that it does not come with an inbuilt CRM system.
Shopify is just an eCommerce platform and it is always suggested to integrate with a CRM tool for a seamless customer support experience.
Online sales growth comparison between businesses built on Shopify and global e-commerce market in 2019
Why does your Shopify store need a CRM system?
A strong Shopify CRM system coupled with your shop allows you to readily monitor all of this critical data and information, which have a direct impact on your Shopify store's sales, revenue, and progress.
Every click they make on your website, every page they visit, and every product they peruse and buy. This knowledge is required if you want to properly harness the power of data.
When you connect your marketing to customer behavior, you can adjust relevant, timely, and more personalized messages to your customers.
You'll need a complete CRM integrated into your Shopify store to get the most out of your eCommerce business, whether you're seeking detailed information on purchases or customization procedures, or a single support framework to manage sales and promotions for several Shopify sites.
Features to look for while opting CRM system for your Shopify store
Shopify is the platform that helps you build an e-store for your business, but building an e-store is not enough. Providing a great customer service experience and building relationships with the customers helps your business survive in the long run.
CRM systems empower your Shopify eCommerce platform with tools and features that can help in enhancing the customer experience and creating a sense of trust and loyalty.
There are several features that should be kept in mind while implementing and integrating a CRM system with your Shopify.
1. Easy integration and fast implementation
You have got a business to handle and you can't afford to waste your time in a long integration process of a CRM.
The Shopify integration should be easy, quick, and painless. There should be no code or sophisticated elements. More importantly, simply getting along with Shopify isn't enough. A CRM that integrates with a range of eCommerce and business technology to help users in selling online is desirable.
2. Omnichannel support
Omnichannel shoppers have a 30% higher lifetime value than those who shop using only one channel.
Some customers prefer to engage with companies via their websites, while others prefer social media platforms such as Facebook, Instagram, Twitter, and sometimes even through Youtube comments.
Omnichannel customer service connects all of a brand's communication channels for effective client interactions. It enables you to create consistent experiences and satisfy your consumers' wants and desires, even when they contact you through multiple channels.
Kapture's One Suite is the master CRM that has the omnichannel feature that brings in complaints and queries coming from different channels to a unified dashboard.
3. User-friendly interface
Your employees are not tech experts and they need a simple system to work on. A CRM system is supposed to make things simple for your employees. 
CRM systems are designed to smoothen the work process of the agents so that they are able to give a seamless customer service experience.
Benefits of having a CRM for your eCommerce platform
CRM software is a platform that allows organizations to maintain contact information, sales information, and income information. CRM software also aids in the automation of the process. As a result, firms may improve their productivity, revenue, and profitability. Users are increasingly dependent on internet buying, and as a result, physical interactions with customers are decreasing.
There are several benefits of integrating CRM with your Shopify eCommerce platform-
1. More cross-selling
A CRM system is ideal for maintaining information about your customers' purchase behavior. The more specifically you can target your consumers based on their interests, the better your conversions and average orders will be.
You can use customer behavior data to convert consumers who haven't purchased in a while, or you may nurture them with content until they're ready to buy again.
Identifying them also aids in keeping track of everything and personalizing the experience you offer.
 2. Better relationship with customers
CRM allows you to collect and analyze the feedback from customers. This helps your company to work on the negatives and rectify the mistakes and errors which make the customers feel valued.
When you work on the feedback given by the customers, it builds a sense of trust and loyalty among the customers.
3. Stronger internal communication
Your employees are the backbone of your company and there needs to be better coordination and understanding among the employees for improved productivity and efficiency.
The secret to a successful eCommerce company is when the entire staff knows and acts in accordance with the consumers' preferences. By providing direct access to CRM for eCommerce systems to your team, you can foster fantastic working connections, allowing them to interact closely and create a thriving eCommerce shop.
Giving every member of your team, regardless of job title, access to the CRM is a terrific method for your team to better understand your customers and, as a result, strengthen working connections.
4. Improved efficiency
Using CRM software in association with marketing automation technologies might free up your personnel by tackling more routine menial chores. Employees may therefore devote their efforts to more human-centered tasks and the development of client connections.
5. Better data and analytics
CRM systems will include data and analytics features that can contextualize customer data. These analytics, like click-through rates, bounce rates, and demographic data, may illustrate a campaign's performance and suggest areas for future improvement.
Smart CRM solutions provide comprehensive insights into such data, allowing your team to take relevant measures before it's too late.
6. Better customer support experience
Customer service is one of the most crucial aspects of every business in today's industry. Every company should prioritize making its visitors and leads feel appreciated and happy.
You can't afford to lose your reputation in the e-commerce market. Customers that leave will never return, and your rivals will profit from your blunders. CRM systems, on the other hand, keep your customers engaged since they provide tools to improve your interactions with them.
CRM systems like Kapture's One Suite comes with features like omnichannel support, live chat, self-serve, Knowledge Management System, and a lot more. These features aim to enhance the customer service experience for the customers.
The best CRM software that integrates with Shopify
1. Kapture CRM
Kapture CRM is an Enterprise-grade SaaS-based Customer Support Automation platform that delivers all-in-one customer support software to enterprises across sectors. A cloud CRM that is more than just a helpdesk and is tailored to every industry's requirements.
Increase agent productivity and response time with omnichannel assistance, a knowledge base, and an easy-to-use clean user experience. It also has capabilities such as auto-assigning tickets, interaction history, call recording, configurable roles and permissions, and churn 1000+ reports. It is completely customizable to your process. Kapture features a self-service portal and AI-powered chat to assist in the development of long-term client connections.
All the features that come with flexible pricing and zero hidden costs make it one of the most suitable CRM for your Shopify online store.
Features of Kapture CRM
Easy to use interface

Self-serve options

Analytics and reporting

Live chat and messaging

Collaboration tools

Seamless API integrations

Automated routing

Custom branding

Omnichannel support

Multi-language support

Field force management

Payment and invoice management

Detailed order management system

Customer profiling made easy

Knowledge management system

Customer 360

24/7 customer support

Dedicated account manager for the implementation process
2. SendinBlue CRM
All of these parameters may be set up and customized using SendinBlue's powerful workflow editor, which can accommodate even complicated automated sequencing with ease.
As a result, you may wish to implement a process that not only assigns scores but also adjusts to your contacts' demands and monitors them through the sales funnel.
SendinBlue is very useful for sending transactional emails. These are the unique confirmation messages that are normally sent along with successful transactions. As a result, you may use them to increase engagement and possibly stimulate repeat purchases.
SendinBlue is great for small businesses that want to extend their contact base as much as possible while nourishing the resulting leads with multichannel campaigns that mix email with SMS, on-site chat, Facebook advertisements, retargeting, and landing pages.
Features of  SendinBlue
Emails marketing

SMS marketing

Live chat support for customers

Automated workflows 

Easy to use CRM system

Inbuilt and customizable email templates

Advanced segmentation

Customer interaction

Page tracking

Automated emails to 2000 contacts

Real-time reporting and

Phone support
3. Hubspot CRM
HubSpot provides a popular freemium CRM that has been popular among Shopify retailers.
HubSpot CRM works perfectly with Shopify, allowing for simple data synchronization between your online business and the CRM dashboard. HubSpot CRM also enables users to develop customized processes that connect with your Shopify client data.
HubSpot also comes with pre-built workflows, making it even easier to develop bespoke connections between HubSpot and Shopify.
The major disadvantage here is that, while HubSpot has more premium features and functionality than other free CRMs, it lacks the capabilities and capacity of premium-priced CRMs, such as marketing automation and workflow management.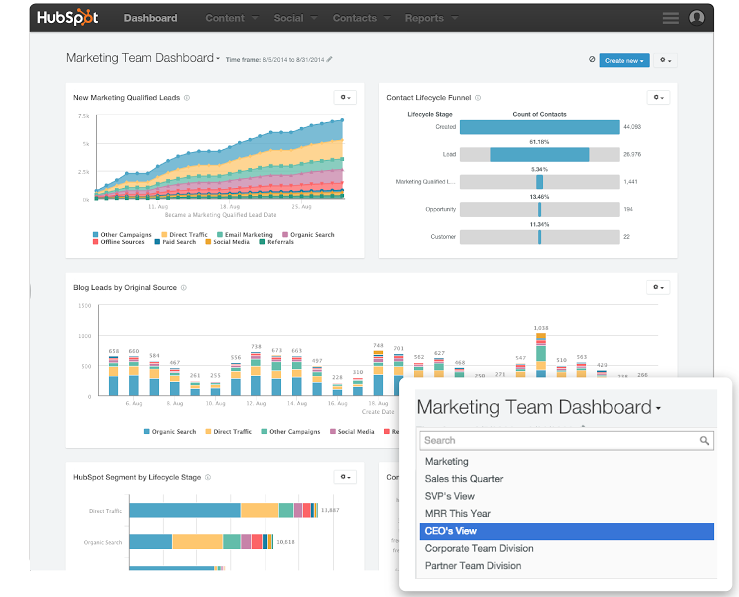 Features of HubSpot CRM
Highly customizable dashboard

Live chatbot to connect with visitors in real-time

Ad management features

Forms and landing pages to help you capture new leads

Email marketing and tracking for automated or blast emails

Crucial real-time email metrics, including open rates and click-through rates

A library of email templates designed for every step of your customer's journey
4. Salesforce
Salesforce Service Cloud is well worth a look for enterprises in need of sophisticated, enterprise-level technical support software. It makes use of AI-powered automation, 360-degree customer perspectives, and powerful service analytics to deliver a solution that enables exceptional service and continuous development.
However, if you currently use other popular Salesforce products, such as their CRM, it will be much easier to unleash the full capability of Salesforce Service Cloud, including the 360-degree customer perspective.
Salesforce is an easy-to-use CRM system but the pricing policy is not transparent as there are additional charges for additional features needed for your Shopify store.
Features of Salesforce
Knowledge management

Workflow automation

Webhooks, SDKs, and APIs

3rd-party integrations

Omnichannel routing

Support operation analytics

Asset management

Remote access

Self-help portal

Customer forums

Workflow automation

Call center management

360 customer view
5. Slack
Slack, the massively popular messaging software, seamlessly interfaces with a wide range of help desk tools, allowing agents to leverage Slack's attractive UI and strong capabilities to centralize all support interactions. Agents, for example, may create tickets, make comments, and get real-time notifications on new and current tickets sent to any Slack channel using the Slack for Zendesk Support app.
Slack, on the other hand, is a strong tool on its own. You may use video, text, photos, and other rich material to create channels for specialized purposes, establish automation, and communicate with others more efficiently.
Features of Slack
Live chat and messaging

Zendesk integration

SDKs, APIs, and Webhooks

Video conferencing

File sharing

Native integrations

Community forums

Workflow builder

Customer surveys
CRMs all work a little differently, but they're all fairly similar. The finest CRM Shopify Integration may vary depending on each store's preferences and use cases.
The Shopify CRM choices completely depend upon the requirements and needs of your business but it is always suggested to get an all-rounder CRM system for your business.
If you want to know more about efficient CRMs like Kapture click here for a free demo.
About the Author

Ankit Kochar
Ankit Kochar is a content writer at Kapture CRM who loves to write creative as well as informative content. He has worked as a creative and academic content writer in the past and has a keen knowledge of writing reports, essays and dissertations. His current field is helping him research and hone his SaaS knowledge.