Do you recall getting feedback form just after you have a conversation with a customer support team?
You may skip it thinking it's not beneficial for you or it is just a waste of time. Right?
But its sole purpose is to benefit you by improving the customer service experience according to your needs.
Is your company also not getting enough feedback and you are unable to evaluate what is wrong with your customer service experience?
Companies require customer feedback to obtain insight into how consumers perceive and interact with their brands. Learning how to creatively seek customer feedback is a crucial aspect for every organization to consider.
According to Mapp, 54% of marketers see the lack of customer insights being their most significant challenge on the road to a successful customer experience strategy.
Importance of customer service
What is customer feedback?
Customer feedback is information given by customers regarding their interactions with a product or service. This feedback leads to customer experience improvements and may enable good change in any organization — even (and particularly) when it is unfavorable. 
Customer feedback is a priceless asset for organizations of all sizes and types. Insights, views, responses, preferences, and complaints regarding the company's products or services are all included.
53% of customers assume that nobody pays attention to or can do anything about their survey responses or feedback- Microsoft 365
Collecting feedback manually can be a challenging task. CRM systems have automated feedback collecting features that deliver the feedback form to the customer automatically after the chat with the agent.
An appealing and interactive feedback form may catch the attention of the customer and may help you get feedback from the customers.
Creative ways to take feedback from customers
According to HubSpot research,62% of customers are likely to communicate more through email for customer service, 48% over on call, 42% live chat, and 36% through "contact us".
Customers are eager to provide feedback, but only to firms that make them feel valued and employ the appropriate feedback survey approach. It's critical to have a procedure in place for gathering feedback and, more crucially, putting it into action if you want to find out what your consumers actually want.
Because of the hassle these procedures impose, many consumers are hesitant to fill out surveys or engage in evaluations. Customers have hectic schedules, and most will not have time to bring out faults in your product or service. Others may be skeptical of the questions you're asking and may not feel comfortable delivering honest answers.
Before you begin soliciting client feedback, you must first determine why you are doing it. Identifying your targeted goals and defining the procedure for achieving them lays the framework for a valuable investment of your time — as well as the time of your customers.
Your efforts may not benefit anybody if it lacks a clear goal.
Here are some creative ways that can help you get feedback from your customers- 
1. Offer live chat support
According to a survey conducted by UK office workers, 76% of millennials and 40% of baby boomers had worrisome thoughts when their phone rings. As a result, 61 percent of millennials would ignore calls entirely, compared to 42 percent of baby boomers.
With the above fact you may be pretty sure that providing a live chat as a channel of communication and taking feedback is important for your business. Not only can live chat assist enhance conversion and keep people coming back, but it also motivates purchasers to offer feedback.
The majority of visitors utilize the live chat option to receive answers to their queries, seek assistance, or air their frustrations. The data or information that people provide is referred to as 'feedback,' since it frequently contains useful opinions that you can utilize to enhance your products or services.
Reviewing chat transcripts and categorizing any feedback points might help you find inefficiencies in your firm.
Kapture's One Suite offers your customer support team smart live chat support and an AI-powered bot for a seamless customer experience. A feedback form can be added at the end of the conversation to collect the feedback in a hassle-free way.
2. Follow up emails with surveys
An immediate follow-up mail right after the interaction with the customer support team can help in getting feedback from the costumes. They may spare a moment of time to fill up the feedback form as you have their attention.
The average person can become distracted in just 8 seconds- Digital Information World
You have those 8 seconds to collect feedback from customers before they get distracted.
The email is sent after a service has been given, a product has been purchased and delivered to a client, or shortly after a customer care agent engagement.
If you've ever purchased online or stayed in a hotel, you've most certainly been asked to rate your experience.
Various vendors can aid businesses in automating this procedure in order to obtain more feedback from customers.
A survey should be sent with the follow-up mail containing polls or tick questions that are easier and faster to answer.
3. Feedback button
Feedback buttons allow you to collect feedback without interfering with your visitors' purchasing experience.
These are one-question forms that should be posted in a prominent location on your website.
While surveys capture the customer feedback you request, feedback buttons might provide surprising information
Feedback may sometimes be quite straightforward. Using smiley face buttons, for example, to poll your visitors, prospects, and customers as they explore your site is a simple and very efficient approach to obtain feedback on the experience you're building.
You've undoubtedly seen a real-life example of this recently when you went to a hotel where they keep a machine asking about your experience.
4. Monitor social media channels
31% of customers report reaching out to a company via Twitter- Forrester
Social media is the new medium to share opinions, criticism, appreciation, and other forms of expression to a brand. 
Customers may also submit extensive evaluations on social media networks like Facebook, which can assist you to understand what purchasers think of you. However, be cautious because future clients may look at these reviews to determine your dependability.
People, for better or worse, like sharing their experiences on social media. Searching your name or products on social media platforms such as Facebook, Twitter, and Instagram, among others, is a wonderful method to receive feedback from active consumers and reply to it in real-time!
Respond quickly to comments, direct messages, and requests, and promote participation. Consider asking questions if you want to get input on a certain issue.
Instagram is capable of much more than just posting photographs. The Stories feature is an excellent method to get feedback on one of the world's most popular apps, pose questions or run a poll within the app.
Monitoring all social media channels can be a challenging job if you don't have the right tool at your disposal. Kapture's One Suite is designed to give your agents the omnichannel experience and the power to monitor all the feedback coming from different channels through a unified dashboard.
5. Reward them for their time
Everyone likes free stuff and rewards. Give your customers the right reward for the time they are giving to provide the feedback and see the magic.
A customer's time is valuable, and completing a survey takes time away from their busy schedule. Offering a prize for survey completion is one approach to make your surveys worthwhile. This results in a basic, yet very successful relational technique to gathering feedback.
These incentives might include free delivery, future purchase discounts, samples, or gift cards. The incentive should be beneficial to the customer rather than a chance to cross-sell. Avoid the appearance of a bribe by making sure your tone emphasizes that this is a genuine attempt to enhance customer service.
Importance of taking feedback from customers
According to Gartner's research, companies that successfully implement customer experience projects begin by focusing on how they collect and analyze customer feedback.
As a business owner, you understand that your consumers should come first. Your success—and the future of your business—will be compromised if you do not address their demands. And how can you tell whether your company is providing what your consumers are seeking? It's easy—just ask them.
No matter what type of business you own, you'll need feedback from your customers to comprehend how you're performing or what your consumers think of your product or service.
The idea is to go beyond simple likes and dislikes and obtain knowledge of your clients' attitudes toward your product. The feedback will help you determine where you can improve and where you are in comparison to the competition.
There are a few reasons why customer feedback is important for your business.
Helps you understand the preferences of the customers

Comparison with the competitors

Improve the customer service experience

Helps in identifying market trends

Helps in identifying key changes
8 most important feedback questions for improving customer service
Questions asked to the customers play the most crucial role in generating interest among the customers to answer them. You need questions that will be helpful in improving your customer service and also keep the users interested to answer.
Listed below are the 8 most important feedback questions which can help you get valuable responses from the customers.
1. Were you greeted in a friendly manner?
2. Did our staff answer your questions?
3. Did you find our staff helpful and courteous?
4. Were you served promptly?
5. How can we make your experience even better?
6. How likely are you to recommend our products?
7. How satisfied are you with our product/services?
8. Is there anything you'd like to add?
What makes the feedback form work?
Creating a feedback form and using creative methods to get them filled by the customers is not enough. The feedback form should be appealing enough so that customers fill it and you get valuable information from them.
Even though we realize how vital it is to understand your customers' demands, we frequently fail to build surveys and forms that truly work–forms that are simple for consumers to fill out and simple for your team to analyze and derive conclusions from.
Here are a few ways to build an effective survey form that can help in getting valuable results.
1. Keep it short and simple
Customers don't have the time to write a descriptive answer for your product or service. Try to keep the form simple and easy to answer. 
One-word answers or tick the answer types form are easy and simple to answer and are less time-consuming. These types of firms may be filled and answered by the customers on the go and can get your desired results.
2. Make it visually appealing
Even though it may sound kiddish but trust me, forms with appealing graphics can attract and make more customers answer or fill the form than a boring one.
If possible, use visuals. For a more obvious CTA, you might provide a visually appealing feedback button that people can use to take the survey. You may also include one or two symbols and images to make the email appear more fascinating, depending on the image of your company.
3. Mention how the feedback will be used
Describe how you manage feedback. Customers are more willing to submit feedback if they know how you intend to utilize it – especially if you want to use it to improve their own experience. Give some specifics about your method to obtaining and assessing feedback, and highlight any areas where you'd want to improve if applicable.
Templates of taking feedback from customers
Below are a few templates that can be used when you ask for feedback from customers.
1. The simple feedback form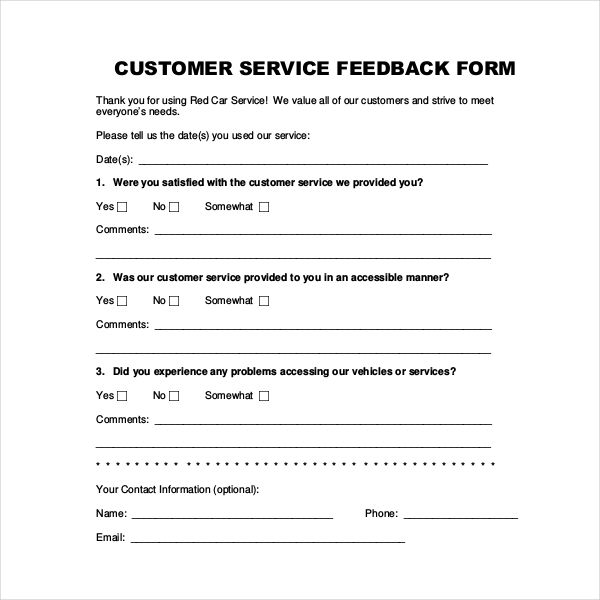 2. The visually appealing feedback form
How can Kapture help?
Kapture can help your company in obtaining feedback from the customers with the help of its following features-
1. Omnichannel- Empower your agents with the omnichannel feature to monitor and reply to all the feedback coming from different social media platforms through a unified dashboard.
Your agents can reply to multiple feedbacks at the same time without leaving the window, it will save their time and increase their productivity.
2. Live chat- A live chat for your customers through which agents can resolve their queries and ask them for their feedback at the end of the conversation.
3. Self-service- An AI-powered chatbot to resolve petty issues of the customers, it also collects the customer service experience feedback from the customers at the end.
Taking feedback can be challenging only if you don't have the right tool. Give your agents the right tool to receive valuable feedback from your customers.
Take the demo now!
About the Author

Ankit Kochar
Ankit Kochar is a content writer at Kapture CRM who loves to write creative as well as informative content. He has worked as a creative and academic content writer in the past and has a keen knowledge of writing reports, essays and dissertations. His current field is helping him research and hone his SaaS knowledge.