The picture hub of the millennial and gen Z is Instagram. It has become more than just a photo-sharing platform. It is now counted as one of the most powerful marketing tools all around the world and there are reasons for it.
Instagram is the 4th most popular social media platform in the world.

Instagram is the second most downloaded application all over the world.

1.22 billion people use Instagram each month

18 to 34-year-olds make up the biggest share of Instagram's audience

59% of U.S. adults use Instagram daily and 38% of those daily visitors are logging on multiple times per day.
Read more for all stats.
Why use Instagram for Customer service
Instagram has become a popular platform for finding new products and services as well as purchasing online, with new features being added on a regular basis. However, when clients peruse your products and learn more about your business, it's critical to remain active and present, in case their experience takes a turn for the worse.
Brands can use Instagram to create a complete circle of customer experience – from product research to customer service – by being present where customers already are. Instagram is a big platform with billions of users, which means that the vast majority of your target audience will have an account and be active on the app.
Instagram's e-commerce and business account features continue to grow, which is wonderful news for brands to enhance their online presence. However, high-quality customer service on Instagram is required to leverage the rising potentially to connect, engage, and assist consumers.
The number of Instagram users around the world: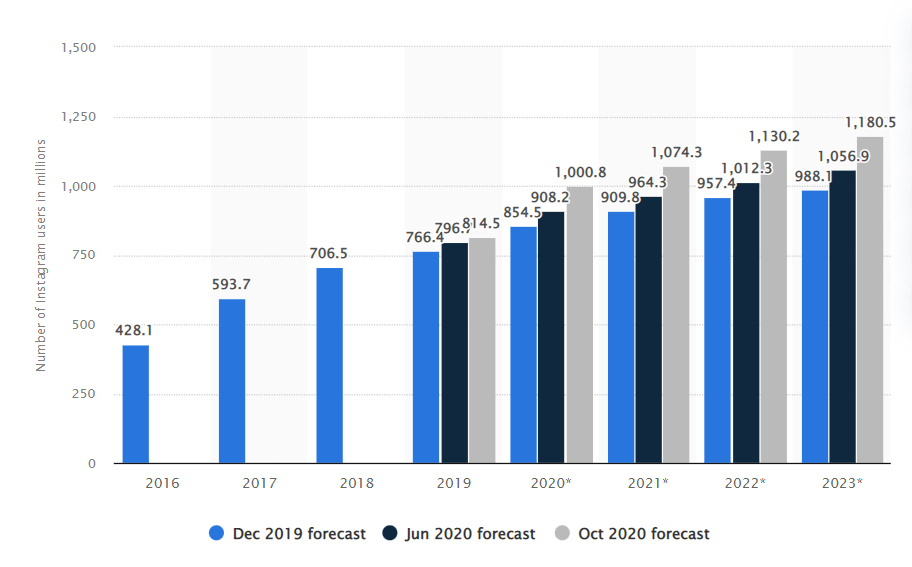 Benefits of using Instagram for customer service
Any brand with any product needs to be active on Instagram as it is one of the major social media platforms where millions of people try to connect and engage with the brands. If someone buys from you and then follows you on Instagram, they're more likely to see your brand and buy from you again. They also expect you to listen to their queries and problems via direct messages or comments. 
By incorporating Instagram into your website, you can connect with clients across numerous platforms and enhance cross-channel engagement.

Furthermore, Instagram allows you to communicate with your audience on the social network, boosting the likelihood that buyers would return for repeat purchases. 

Cross-promotional channels and marketing activities enable you to broaden the reach of that channel and encourage existing followers to follow your brand on other platforms.

The more touchpoints your brand has with a consumer, the more probable it is that they will choose you over rivals!
Listed below are some additional benefits of using Instagram for customer service.
Builds a sense of trust and loyalty among customers.

Drives more engagement to websites which means more sales.

Public resolutions help in getting better word of mouth.

Better crisis management 

People can reach you 24/7 with their problems and queries.
Best Ways to correctly use Instagram for Customer Service
There are different ways that can be helpful in using Instagram for providing social media services to the customers.
1. Monitor every comment, DMs, and mention and respond quickly
2. Set engagement guidelines 
3. Add Customer Service Contact Info to Your Instagram Bio
4. Create an FAQs section in highlights
5. Treat both positive and negative comments as important
6. Move sensitive issues to the main support channel
7. Set your tone and personalize
8. Having a brand voice and identity
1. Monitor every comment, DMs, and mentions and respond quickly
If your company is huge and you have a lot of activity on your account, you undoubtedly have a lot of comments and direct messages to sort through. This is maybe the most simple suggestion, but it is the most crucial! Failure to respond to a consumer might be the difference between gaining or losing a customer.
When your consumers write a remark, mention you in a post, or send a direct message (DM) to your business, they want to be heard! Make sure you respond to them as soon as possible or risk losing their business or (worse) earning a terrible review.
Kapture helps you provide five-star customer service via Instagram by helping you monitor every comment and DM. It deeply integrates with Instagram and channels all the queries to a unified dashboard for the convenience of the agents.
The number one best practice for managing social media accounts is to respond, remark, like, and recognize as many comments, questions, and inquiries as possible as promptly as possible.
Customers expect you to listen to them. This is especially true when they communicate via social media and comment on public posts. You may not have customer care personnel monitoring your accounts 24 hours a day, but when you do, they must watch Instagram for important messages and respond as soon as possible.
2. Set engagement guidelines
A proper protocol must be followed while replying to or engaging with the customers. This ensures a seamless and consistent customer experience for every customer. Set the protocols that can be incorporated in real-time and can be followed consistently. 
You can set the following guidelines for better and consistent customer service on Instagram.
Set a proper reply frame

Mention the issues that won't be addressed on Instagram

Encourage positive engagement
3. Add Customer Service Contact Info to Your Instagram Bio
When it comes to customer service on Instagram, it's essential to make it simple for followers to contact you. One of the easiest ways to achieve this is to include a customer service contact in your bio, which is the first thing people see when they visit your Instagram profile. 
By including your customer service email, phone number, and DM invitations, you're letting your consumers know right away that you're ready to assist them with their inquiries, whether it's a query about a product or service or guiding them through the purchasing process.
4. Create an FAQs section in highlights
When a client has a query, not all will contact you via DMs or phone calls. Some people prefer to solve their own problems before calling you.
As a result, providing a self-service solution on your Instagram profile, such as developing a separate Instagram highlight for commonly asked topics, is a wise strategy (FAQs).
Customers will notice and be able to click on the highlight to access all of your FAQ subjects and troubleshooting hints in one location when they visit your Instagram profile. Of course, if a consumer comes to you with a query, you may send them to the highlight as well.
You may be creative in creating interesting FAQ material that is both educational and fun for your consumers to access.
5. Treat both positive and negative comments as important
Every customer expects you to take them seriously and to listen to their concerns. This is true regardless of how big, little, or expensive their complaint is. It even applies to Instagram comments and queries that are only a few words long.
That is why you should assign a customer support representative to your social media platforms. If your consumers are using Instagram to ask questions and share comments, you should meet them where they feel most at ease.
Negative remarks or feedback should not be ignored for too long. Other people will not want to do business with your firm if they notice bad comments without a response from you. That is why you must reply to every unfavorable comment as soon as you become aware of it.
Customer service on Instagram may truly contribute to your company goals by catering to all positive and negative comments if you have solid procedures in place and a grasp of these best practices.
6. Move sensitive issues to the main support channel
The better your customer service, the more probable it is that customers will recommend your company to others, driving additional traffic to it. Online customer service is critical, and one aspect that must be carefully considered is reaction time and the veracity of your responses.
As an Instagram business account, you'll frequently get customer care inquiries in the comments sections of your photo posts. Starting a customer care dialogue in the 'public' domain of a comments area is terrible etiquette, especially when a client may need to provide personal information to answer their query.
Move the serious and negative issues from the public eye to personal space and provide the resolution.
7. Set your tone and personalize
Instagram, like other social media sites, is a less formal mode of communication. The tone you use in Instagram dealing with customers should differ from the tone you use in a support email.
You can incorporate emojis or utilize comedy in your response to their query depending on the tone of the specific consumer you're dealing with. You may even respond to their comment with a GIF, giving consumers the impression that they are conversing with a buddy.
Try to connect with them in the language they reply to or reach you in your DMs or comments. This gives them a sense of personal connection with the brand.
Kapture does not believe in language barriers and so it has a language translator that helps your agent reply in the language your customer is comfortable with.
8. Having a brand voice and identity
A great visual identity may assist to improve your brand message, make you appear more professional, and even turn visitors to your profile into long-term clients.
Reaching out to customers and being there for them through every channel possible helps in creating brand visibility in the market.
Your customers try to reach you out for a complaint or a query and you immediately resolve their doubts via Instagram itself, this makes your company the good guys of customer service.
Kapture brings your customers closer to you and helps you create a brand identity in the market. It integrates with Instagram seamlessly and allows your agents to resolve and answer queries through a single dashboard.
Kapture – The millennial-friendly service automation platform
Kapture understands the growing need of monitoring the comments and DMs coming in through Instagram and set up customer service on Instagram. We here in Kapture believe in providing a true omnichannel experience to the customers. All the queries coming in the form of DMs or comments come to the unified dashboard of your agent for an easy and smooth customer service experience. 
Kapture deeply and easily integrates with Instagram so that agents can reply and converse with the customers directly through Kapture's dashboard without switching windows. 
Multilingual chat allows your agents to converse with the customers in their language to offer a sense of personal touch to them.
Monitor and never miss any query coming through Instagram or any other channel by implementing Kapture's One Suite in your system.
About the Author

Ankit Kochar
Ankit Kochar is a content writer at Kapture CRM who loves to write creative as well as informative content. He has worked as a creative and academic content writer in the past and has a keen knowledge of writing reports, essays and dissertations. His current field is helping him research and hone his SaaS knowledge.