"Please be on hold while we connect your call to the customer representative".
**Jingle playing.**
"All our customer service representatives are busy. Please bear with us while we connect you".
**Jingle playing.**
You must have come across these lines and the soothing jingle that follows but have you ever liked waiting in line? Long queues are something that every customer avoids and prays to never encounter.
Queue management has become one of the most important criteria for every customer service department dealing with a large volume of requests. 
Without this, the company will not be able to reach its full potential. Because a lack of queue management frequently leads to a loss of customers, poor service efficiency, and, ultimately, negative evaluations. It must be handled on a larger scale with a sharp eye on the specifics.
Better support ticket queue management means better customer service.
93% of customers are likely to make repeat purchases with companies that offer excellent customer service(read more).
What is a support ticket queue management system?
Support ticket queue management system is software that allows your customer support team to manage the ticket queue in an efficient and better way by automating and simplifying the process with its features.
When customers contact your support staff through the different help channels accessible to them, their communications are turned into support tickets and kept in a queue.
That queue is essentially your customer support team's mailbox. The mailbox needs to be taken care of by the agents in a systematic manner for a smooth and seamless resolution of tickets.
It enables customers to directly interact with the concerned agencies of your business to seek effective solutions for the essential services the moment they connect with customer support.
How does it work?
Managing the wait might be difficult. Just when you believe you've finished, you notice others in the ticket queue. There are tickets that no one wants to touch because they are too complex, and then there are the runaway tickets that bounce to and fro between agents and departments.
Most customer support solutions like Kapture's One Suite allow you to filter the ticket queue into several perspectives. As a result, the agents may view and work on cases that have been assigned to them or have a high priority. Agents may be confronted with many forms of customer support ticket queues like an email ticket queue, a phone queue, or a live chat queue and proceed towards quick resolutions as per them.
83% of customers agree that they feel more loyal to brands that respond and resolve their complaints(read more).
Tips to efficiently manage customer support queues
Know your Service Level Agreement(SLA)

Implement self serve

First come first serve

Set priority tags

Segregate tickets according to problem

Internal hierarchy system

Quick access to information

Eliminate the repetitive issue

Internal team management
Know your Service Level Agreement
Customer service SLAs are a set of service-related goals developed by a corporation for procedures with a measurable effect. Some of the most popular SLAs are based on how soon a support request is responded to or how quickly a ticket is closed.
Before you consider simplifying your queue management, you must first optimize your processes by determining your service level objectives. For example, if you run a service-based company, your service level goals should be the proportion of customers, inquiries, or orders that must be handled, replied to, or completed within a certain amount of time.
Implement self serve
90% of consumers expect an online portal for customer service(read more).
When your customers are given the power to help themselves, the number of tickets automatically reduces in a drastic way. 
Empowering your customers is one of the simplest methods to reduce your ticket line. Make it simple for them to get answers to frequent inquiries. Choose customer support software like Kapture that comes with a knowledge base. Create a searchable knowledge platform that allows your customers to view info at any time and from any place.
Create help pages, user guides, manuals, wikis, documentation, and much more to relieve the pressure on your support team, minimize wait time, and lower customer service expenses. This help section enables you to keep track of what your users are looking for and change the information accordingly.
First come first serve
Agents should follow a first come first serve ticket resolution process to avoid any choke in your ticket management system.
A high-performing help desk ticketing system approach not only ensures a careful balance between the number of incoming tickets and the number of answered ones, but it also ensures that no ticket is dealt with for much longer than usual. Prioritizing certain clients or concerns is not a problem as long as all tickets are responded to in a reasonable chronological sequence.
With a top-to-bottom approach, this strategy helps keep things simple and typically results in speedier response time.
Set priority tag
All tickets are essential, but not all are urgent. The time it takes to resolve a ticket depends on its kind and urgency.
Organizing and classifying your tickets according to the type and severity of the request allows for more equitable workload distribution and realistic objectives. Furthermore, you don't have to be concerned about crucial tickets becoming distracted.
Different priority levels for incoming support tickets inform agents about which issues require immediate attention – a critical component of a successful digital CX strategy for contact centre and customer support teams. Although it may appear simple, the ideal strategy to maximise your ticketing system priority levels is to prioritize customers in the most need; low and medium-priority questions may always be addressed later.
Kapture understands the role of tagging and setting priority to a ticket and so it comes with a feature to tag the tickets based on their seriousness.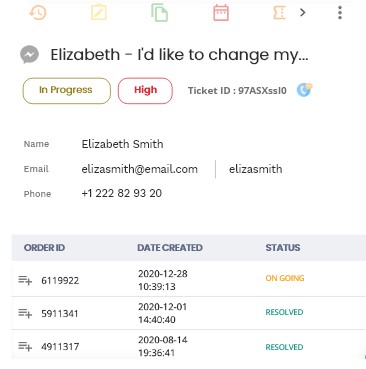 Segment tickets according to the problems
If your support team frequently receives a wide range of enquiries, you may want to consider categorizing issues. For example, by issue category, product, department, and so on. 
It enables assigning the appropriate tickets to the appropriate teams or specific team members who should handle them. Because some agents are more knowledgeable about particular areas or have a skill set that allows them to quickly tackle certain kinds of challenges. Ticket segmentation can assist in preventing requests from stacking in a customer care queue.
If a query can be best addressed by a certain individual or group, look for methods to have such queries automatically routed to the correct area.
Kapture's one suite smartly segregates the tickets based on the keywords used by the customers and puts them in a folder for the convenience of the agents. For example- tickets with refund issues will be segregated and tagged as refunds.
Internal hierarchical system
You should set up a proper hierarchy of the agents based on their skills, experience, and ability to handle a particular problem.
Setting up ticket categories depending on the amount of difficulty or skill is one method to deal with this. Another alternative is to establish a tier system of help inside your firm.
Leave the easier inquiries in the main queue for speedier treatment, and you may establish separate response time objectives for the difficult ones.
Setting up a tiered support system is an excellent idea for SaaS support teams that frequently get requests of varying technical ability. The first-level agents may react to general questions and escalate more complex technical concerns to the second-level agents. The structure will be determined by the size and complexities of your support crew as well as your business.
Quick access to information and data
Provide support agents with the tools and resources they need to respond and address issues quickly. Ensure that all team members have received sufficient training and have access to the internal Knowledge Base as well as any essential information. The more skilled and empowered support agents are, the more swiftly and effectively they will be able to address tickets.
If a ticket is allocated to a new individual, ensure that they have a complete record of the ticket's history. It is vital to be able to observe all updates and status changes in order to respond swiftly with little back-and-forth communication.
Kapture empowers your agents with AI-powered assistants that can smartly and seamlessly bring in any required information from the knowledge base for faster resolution. The dashboard allows your agents to see the complete journey of the customers, that is previous tickets, orders, and interactions with agents for better understanding.
Eliminate repetitive issue
Support has always been thwarted by repetition. Boring, boring activities may be a huge letdown for agents looking for career happiness.
The easiest strategy to keep the line under control is to address the issues that are causing customer support inquiries. Use any extra capacity you have to gather and report on the effect of recurring issues on customers and support teams, and offer changes to your product team.
The first approach is to reduce agent burden. With more time on their hands, support representatives may focus on duties that benefit both the client and the business. It also implies that more serious and difficult topics can receive the attention they deserve.
Internal team management
Having a well-defined, comprehensive support process workflow for customer support queue management will not only boost the productivity of support agents but will also assist them in providing a consistent service experience. It should specify who handles what, when, and where tickets should be escalated. Furthermore, it should be easily accessible to all support agents at all times.
Managing a ticket queue management procedure also necessitates proper management of the experts that serve as service providers. It is critical to provide them with a safe and pleasant working environment. Changing responsibilities and assignments, as well as sharing or exchanging duties, eliminates the chance of disgruntled or inefficient queue management role players.
Importance of managing support ticket queue
Support ticket queue management plays an important role in improving customer experience. Efficient support ticket queue management comes with a lot of benefits to both the customers and the company,
Minimizes the waiting time of the customers for getting their queries resolved.

Enhances the customer experience

Increases efficiency and productivity of the agents

Saves time and money
Kapture for efficient support ticket queue management
Kapture's One Suite is a contextually smart and intelligent software that assigns the tickets to the best suitable agents for faster and better resolutions.
It automates the tasks for your agents and eliminates repetitive queries by providing a knowledge base consisting of common questions asked by customers.
Kapture comes with an AI-powered assistant that helps the agents to get all the required information for solving the issue of the customer in one go. It helps in providing quick resolution and managing the ticket queue in an efficient manner.
Its Knowledge Management System helps you to provide a powerful self-serve feature for your customers so that they can resolve petty issues by themselves. This helps in reducing the ticket queue. 
Reduce the workload and increase productivity with Kapture.
Try the demo now.
About the Author

Ankit Kochar
Ankit Kochar is a content writer at Kapture CRM who loves to write creative as well as informative content. He has worked as a creative and academic content writer in the past and has a keen knowledge of writing reports, essays and dissertations. His current field is helping him research and hone his SaaS knowledge.