CRM is used by many companies for business development. It is an essential tool in this modern, swiftly moving corporate world. Every aspect of the business should be taken care of, in order to maintain a good relationship with customers. CRM makes it much easier for business agents to rapt their product to customers. CRM has paved the way for implementing many innovative methods for a successful business process. Leads, services, sales, marketing and many other sections can been controlled and automated using an effective CRM platform.
One such field where different and hidden opportunities are uncovered is, marketing. Marketing is a time consuming process and investment is high. It is very necessary to promote a product and should be very effective in such a way that, it should lead to a profitable finish. CRM has brought a drastic change in the marketing prospective for any business which uses CRM software. CRM gives and also finds the best way for marketing.
Comparing with the older techniques:
In earlier days, business people followed the technique like this, "selling what they make". They were product lead, marketing wasn't effective and didn't reach up to expectations that of businessmen. Later, slowly understanding the customers, "make what you can sell" motto was adopted by many companies, marketing was easy and could bring good profit. Companies would do many marketing campaigns, invite customers to neutral venues for marketing purpose or go to customer place, which was not effective and worthy. Now by using CRM software, agents can understand their customers very well and provide the best service for their valuable needs.
CRM Features that helps to uncover hidden market opportunities
Mobile CRM:
It is probably the fastest and most effective method used for marketing. CRM app is compatible with any smart phone that is powered by android/iOS. Here, marketing a product or service can be done by broadcasting the marketing content to multiple customers with just one click. It saves time by providing relevant and necessary information which is enough to persuade a customer into buying a product or service. If any new customer has entered, marketing can be done through conversations like chatting, which ensures trustworthiness of the product. 
Customer Profiling:
It is one of the best feature through which the exact need of customers can be understood very clearly. Customer details like address, occupation, income etc. are used for classification. It classifies customers according to their needs and provides a list of customers with similar needs. This automatic classification enables the entrepreneurs to carry out effective mass marketing campaigns.
CRM integrated to Social media: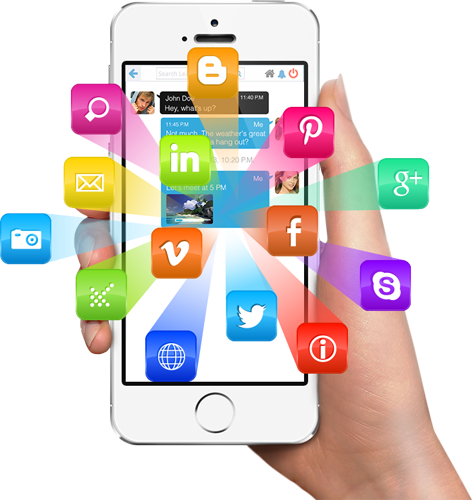 Social was used only for connecting people, but since the integration of CRM with Social media like Facebook and Twitter, a business finds it much easier to get connected, attract new customers and stay in contact with loyal customers.  CRM software updates every business related information on to social media websites and helps in marketing online. Taking data from customer profile, it helps to send messages to customer phone number, e-mail id, Facebook and Twitter account at the same time. This requires some innovative and creative presentation skills. Companies carryout many social media campaign, which is the latest marketing trend to get more customers.
Telephonic Marketing:
This is same as social media marketing, but a tile-caller makes call for every customer contact available in the customer profile. This is time consuming in terms of persuading the customers to take lead.
Employee Tracking through GPS:
Customer may not be satisfied with the marketing skill as discussed earlier, so he/she may ask to explain in detail about the product and fix a meeting. The agent who was supposed to meet the customer may have fallen sick or is stuck in traffic or busy with another meeting at the same time.  Through GRP tracking, one can locate the nearest agent, who is available as substitute for the unavailable agent around the customer provinces and can send a notification message regarding the meeting. So the customers are not made to wait and marketing or service is provided on time. This helps the agent get another opportunity to exhibit effective marketing skills and improve the business process.
Customer Feedback:
Customers are given freedom to express their thoughts about the service which they are offered by a company. All the customers can view and give their feed backs on a single platform. If a customer is satisfied about a particular service, he/she may give a positive feedback which intern motivates other customers to take a look at the service. If the service discussed in feedback matches the need of any customer, then that customer takes the lead. This is also a kind of marketing technique where customers are engaged with active involvement.