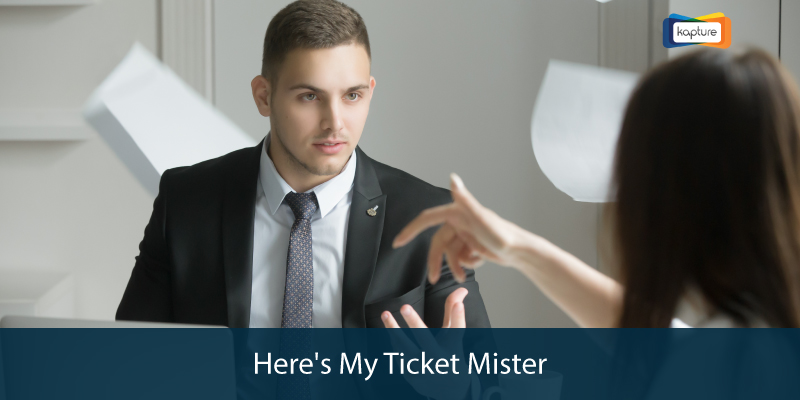 In today's age of ubiquitous competition and well-informed customers, the businesses need to offer something uniquely special to find a place in customers' minds. When the pricing and product quality is similar, the customer support quality could be a deciding factor in determining your customer experience.
As the proverb goes, half of the secret of doing a job well is 'choosing the right tool for the job'. For a customer support team, this tool would be a cloud-ticketing system that enables a systematic handling of queries with improved quality of interactions.
Deliver More Value/Interaction
In other words, limit the number of redundant interactions.
Let me explain.
Nobody likes to spend time for nothing. But most support teams takes past the first two or three interactions to provide a meaningful reply. For example, let's say that the customer send a query through mail. Usually, the first response would be an autoresponder about the receiving the mail. The second response could be asking for more details about customer and query. Only, the third reply would carry any meaningful instruction or solution.
In this place, the customer would be expecting a more effective and time wasting method of communication.
A cloud-ticketing solution allows you to cut-back on the number of interactions and incrementally improve the value exchanged per interaction. This also leaves your customers feeling positive about the provided solution.
This would significantly improve your business-customer relationship.
Build a better support team
Whether it's Yankees or your support team, it is said that the team is only as good as its individuals. This simply means that you always need to focus on upgrading your existing support team skills to stay on-course to improve on a daily basis.
Ticketing management platform can help you achieve a higher level of accountability at managing your customers. This allows you to track the number of assigned tickets, resolved tickets, pending tickets, SLA escalated tickets, customer satisfaction score etc… By effectively tracking these metrics for each agent, you'll able to effectively identify any existing loopholes or inadequacy in existing support team structure.
This also allows you to effectively identify the top-performers and promote them on a systematic basis.
Figure-out the Loopholes in Customer Experience
As a business operation, you should never miss out on an opportunity to optimize the customer experience. For most businesses, there are certain loopholes that carry a detrimental effect on the customer experience. By effectively tracking and quantifying the customer queries, you can pinpoint and fix these loopholes.
By having a ticketing solution, you can combine all queries within a single dashboard. This allows you to accurately quantify the challenge that irks the most customers. Later, you can allocate resources to resolve this loophole.
In this situation, you need to create an effective way to improve your customer experience in a consistent manner. This could be done through customer service software.
Organize and manage individual tasks
Normally, a customer service rep needs to handle multiple responsibilities behind the screen. The service rep needs to collect inquiries, evaluate requirements and assign tasks to the individual team members. This could take multiple resources on a daily basis.
An Omni channel ticketing platform can significantly simplify these requirements on a daily basis. By integrating different channels, you can streamline all the queries to a single dashboard. Within a unified dashboard, you can improve the task allocation and assignment between the different agents. This can also make your customer service operations more focused on achieving the given goals.
Conclusion:-
A fast-growing business needs to ensure that their customer experience keeps-up with the pace of other aspects of your business. Within a cloud-based ticketing software, you can start measuring and quantifying these different aspects related to your customer relations. This allows you to organize, interact, and manage your business operations.
In this way, you can elevate your customer experience without having to make any other changes. At Kapture CRM, we facilitate better customer experience through business cloud management.