We all love simpletons. We tend to believe that our simplest ideas are the most powerful. We also attach an element of the truism to simplicity.
But in the last couple of years, the marketing has been genuinely taken-on in the opposite direction. It has transformed itself into a highly complex activity that needs sophistication and market intelligence. You also need to balance your budgeting and marketing requirements.
You need to progressively put more and more stress on different human utility. This also means that the past simpleton mindset that worked well in the past, will be henceforth nullified for a more brilliant and complex protocol. You need to take multiple decisions, where each decision is dependent on a multitude of different decisions.
A marketing automation system can simplify and accelerate your marketing process management. You can also take more effective daily decisions and thereby streamline your marketing decisions.
The features of the marketing automation system enable you to connect and collaborate between different activities; it's also a process to systematically uncover and utilize your sales and marketing opportunities.
So, without further ado, here are a few CRM features that can bestow the marketing automation process-
Identify your most profitable leads
For a modern marketer, the worst possible situation isn't the complete lack of quality leads. If you combine the basics of psychology and marketing science, you could possibly generate a large volume of leads. According to digital marketers', the worst situation would be a large volume of leads that completely fail to convert into final sales.
Meanwhile, you could be completely at dark concerning the quality of these leads.
Ideally, you should have an effective way to guide and improve the quality of your generated leads.
For this, all the marketing strategies should be geared towards a single goal – an ever-increasing volume of generated leads. But, today the greatest challenge of businesses is to segregate quality leads from the 'poor' leads to boost up the conversion rate.
As the first step, you could filter and segregate the most profitable leads from your existing lead database.
You need to analyze your customer profiles and behaviours to identify the chief characteristics of a prospective lead. By this method, you can also identify the attributes and behaviours that designate a lead quality.
Within the CRM customer account, you can view all the customer details – including purchase history, buying behaviour and other details on your CRM dashboard. You can also generate ROI-related reports such as lead information and sales reports.
Likewise, you can also generate information about your future lead generation.
Afterwards, you could try to have your future lead acquisition strategies to reflect the characteristics of the acquired leads.
Almost, 84% of the companies believe that the CRM system could beneficially determine the quality of your leads.
Once you are able to identify the quality of leads, you can build up a better marketing strategy, concentrating on the qualified leads that surely gives you increased sales revenue.
Automate your Email Campaigns
Email ranks as the third most influential information source for B2B audiences, behind colleague recommendations and industry-specific intermediaries. Most of the companies use emails to promote their product and services since it is one of the slandered marketing mediums.
According to The Direct Marketing Association, segmented and targeted emails generate 58% of all revenue.
But, to know the hidden recipe of targeted email marketing, you need to understand the tactic of email marketing automation.
Now, what is email marketing automation?
Let's explain this concept with a very practical issue. Suppose, you own a perfume shop and you are planning to launch a brand new female perfume. For this, indeed, you need a strong campaign to promote the product.
If you want to gain the maximum benefit from your email marketing campaign, you need to send your promotional emails only to the female customers. And the process of segregating the database, analyzing the customers' behaviour and then sending targeted emails to a specific segment – all together called as email marketing automation.
Precisely, a marketing CRM system stipulated the process of automation with all its marketing tools.
Customize your independent Campaigns
Customer experience is dependent on personalized offerings and services.
Think from the customer's perfective – you love trendy leather bags and frequently roam online for better discounts and offers. You will always appreciate the brand, who sends you frequent updates about newly arrived leather bags and gives you a tempting offer/ discount 'only for you'.
The ability to segment email lists and individualize email campaign messaging is the most effective personalization tactics.  These are also the highest rated tactic for marketing influencers with both being effective for 51% and 50% respectively.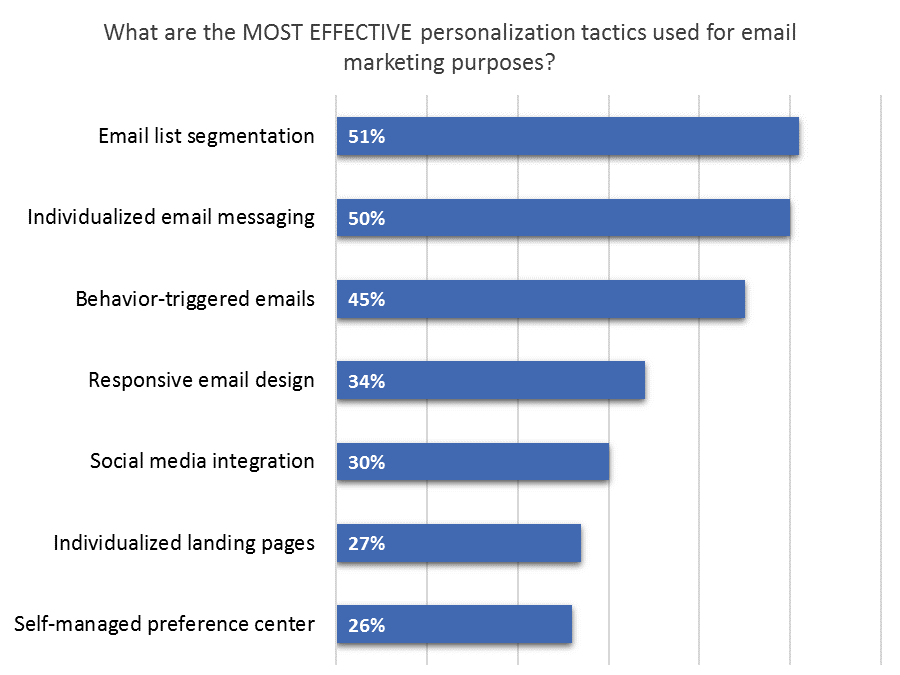 A suitable marketing automation system will help you to know the customers' buying pattern and behaviour so that you can get valuable insights about their expectation. Once you know what your customer wants to buy, you will able to offer them special discounts and customized service to gain their loyalty.
Integrate Social Media
As you may be already aware, social media is a significant part of the current marketing and sales industry. Social Media Examiner conducted a survey to demonstrate the importance of social channels that shows 92% of marketers said that social media is important to their business. It is also mentioned that 90% of all marketers indicated that their social media efforts have generated more exposure in their business.
Undeniably, most of your customers are now using different social networks and actively participating in social groups. So, today social media is the best way of communication, irrespective of all industries and business.
This opens up the chance to directly connect with potential and existing customers and increase your brand awareness and loyalty.
With social media management tools, you can gauge the comments and remarks that customers and prospects make about your business, brand, products and services, and ingest those notifications into your marketing automation platform.
Conclusion
There are many applications to consider in a CRM system, particularly when it comes to sales and marketing. For some companies, ease of installation and cross-department functionality will be the top priority. For other companies, abilities like mobile access and social media integration or email marketing automation may be top-of-mind. The CRM technology you decide on will also depend on your business needs and the size of your organization.
Though selecting a CRM for marketing automation is a daunting task.