According to Microsoft Report, about 56% of people around the world have ended ties with a business because of poor customer service experience.
In order to run a profitable and successful business, organizations have to keep up with various customer expectations. From making sure the customer has a pleasant onboarding experience to conducting post-purchase follow-up sessions, businesses have to make sure that everything runs smoothly.
In addition to this, another important factor that businesses should pay attention to is customer service. With so many options being provided for the same service or product, the power of purchase lies in the hands of customers and the only thing that helps customers choose one brand over the other is customer service experiences.
Having a strong customer support funnel helps businesses provide the best customer service experience to their customers and at the same time enables the organization to create efficient and streamlined workflows. 
What Is a Customer Support Funnel?
A customer support funnel is a tool that helps businesses maximize the value that helps desk services provide through factors like customer success rates, customer growth rates, and customer retention levels.
In simple words, the customer support funnel is a term used to address the journey of a customer beginning from the onboarding stage to the advocacy stage.
In other words, it is a process that helps organizations track customer onboarding levels and retention levels to get a better understanding of a customer's journey with their business. 
Why Should You Build & Improve Customer Support Funnel?
Did you know that according to Tech. co, about 94% of customers are looking to make a purchase from the same source? 
But given a situation where a customer goes through a bad customer support experience, it becomes extremely difficult to retain customers. Customer support funnels excellent tool as they help businesses track and identify factors due to which they are losing customers.
It makes it possible for businesses to better analyze sales and marketing performance by tracking Conversion Rates, leads generated, etc.  In addition to this, they also enable businesses to measure stats like return traffic, lead generated, leads converted, etc. Businesses can not only significantly influence buyer behavior with good customer support services, but it also increases profitability at the same time.
And having a strong customer support funnel helps businesses provide the best customer support services. Improving customer support funnel helps businesses- 
1. Identify Gaps 
According to PwC, consumers are likely to pay a 16% price premium for a great customer experience. This not only means you have to prioritize providing good customer experiences but also means that you have to identify any gaps or shortcomings in the process.
Image Souce: PwC
Having a well-maintained customer support funnel With a holistic view of the customer journey helps businesses easily identify gaps in marketing strategies for or find faults in products or services being provided
2. Increase Profitability
According to a report by Retail customer experience, Businesses with superior customer experience tend to bring in 5.7 times more revenue than competitors that lag in customer experience. Efficiently maintained customer support finance helps businesses provide the best customer support experience which in turn increases customer satisfaction levels.
Happy customers = increased customer retention rates leading to repeat buying circles. In addition to increasing customer retention rates it also helps businesses increase profitability at the same time.
3. Make data-driven decisions
According to Mckinsey, data-driven organizations are six times as likely to retain customers and 19 times more likely to be profitable. Well-maintained customer journey-related data enables businesses to make better and data-driven decisions.
From help desk operation teams to marketing teams, customer support funnels help various departments get a better hold of organized customer data which helps them build better strategies as well as products.
4. Increase retention levels
According to PwC, about 32% of customers stop purchasing from a business they love after a negative experience. A clear understanding of loopholes and faulty factors that are causing setbacks helps businesses better understand what exactly customers need.
In addition to understanding, customer needs businesses also get a better idea with respect to expectations of repeat-buyers, which in turn helps them which in turn helps businesses significantly increase customer retention levels.
5. Helps you cut down costs
Improved customer support funnel process enables businesses to get a better understanding of loopholes, faulty mechanisms, and customer expectations. This sort of information helps businesses build better products, marketing strategies, and sales strategies very easily.
Well-maintained customer support funnels enable businesses to significantly cut down customer onboarding and customer retention costs. In addition to this customer, support funnels help with effective onboarding leading to lower acquisition costs. 
Stages of the Customer Support Funnel
Finding the best customer experience is always the priority and the ultimate goal. From helping marketing and sales teams stay aware, consider various factors, conduct a proper evaluation, etc. to making sure customer support teams enhance onboarding processes while increasing customer retention levels, businesses have to focus on various aspects word comes to enhancing customer service experiences and customer support funnel processes.
The customer support funnel process comprises mainly four stages –
1. The Onboarding Stage
The onboarding stage is where you focus on converting your first-time buyer into a repeat customer. Making sure that there are accessible customer touchpoints within the onboarding process like documentation, live chat help, email, phone, a self-service portal, etc is essential for a successful onboarding process.
Conducting one on one interactions with the customer to help them better understand the services and products being provided is important.
2. Post-Purchase Follow up
Post-purchase follow-up involves getting back to the customer after their initial purchase. Onboarding and post-sales support go hand in hand. Providing customers professional guidance post-purchase or whenever necessary is crucial for a successful conversion. Although providing support is an ongoing process, providing post-purchase support in this stage is beneficial and even more important. From providing product-related details to helping customers help themselves through self-service portals service support agents need to provide proactive support to customers.
3. Customer Retention Stage
Successfully post-purchase follow-up or post-purchase support does not necessarily mean that the lead was successfully converted into a loyal customer. The customer retention stage involves agents educating customers about the various product or service-related benefits.
In addition to product-related information, customer service agents should also offer information about new product releases or existing service updates, etc. This helps the customer better understand the product as well as new buying possibilities with respect to new updates and product releases.
4. Advocacy/Influencer Stage
The last stage of the customer support funnel focuses on assessing satisfaction levels. Important to measure and understand how satisfied customers are with their purchases. In doing so, businesses not only understand how well the product or service is working for the customer they also catch hold of any errors or faulty errors in the products or marketing strategies.
The final stage does not end with assessing satisfaction levels or CSAT scores, the final part of the stage is the influencing or advocacy part. From social media platforms to community forums, from user conferences to virtual forums, businesses can bring customers together and help them share their experiences and practices with respect to the product and services being offered.
4 Things You Need to Build an Effective Customer Support Funnel
Building a customer support funnel can be challenging if businesses don't invest in the right technology. From integrating self-help portals to Live chat facilities, businesses need to arm their customer support operation teams with the best customer management tools that will not only improve the customer support funnel processes but will also help streamline workflows.
1. Self-Serve Portals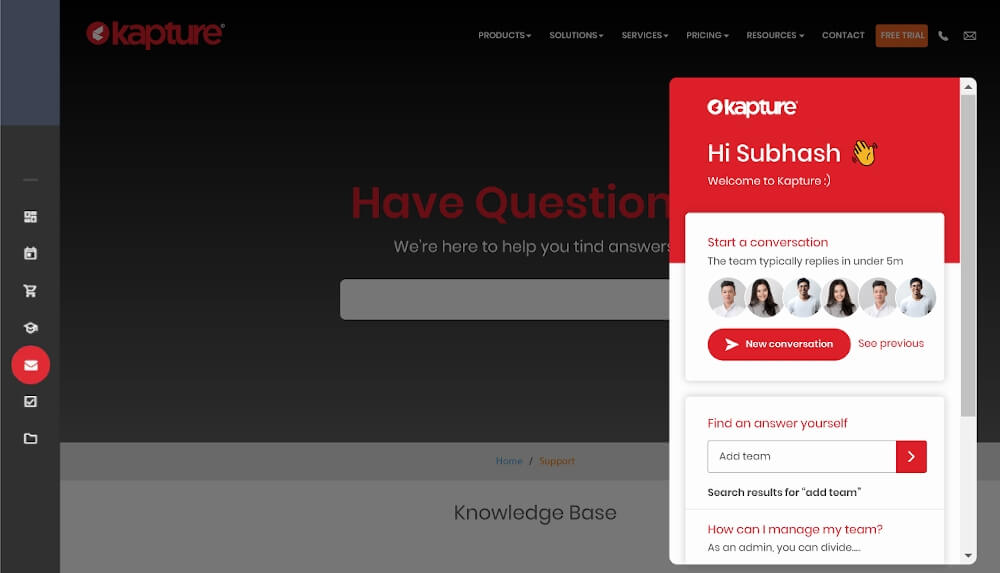 By integrating self-service Portals businesses can easily help customers help themselves out. In addition to this, it also helps businesses build an independent customer base. 
2. Omnichannel support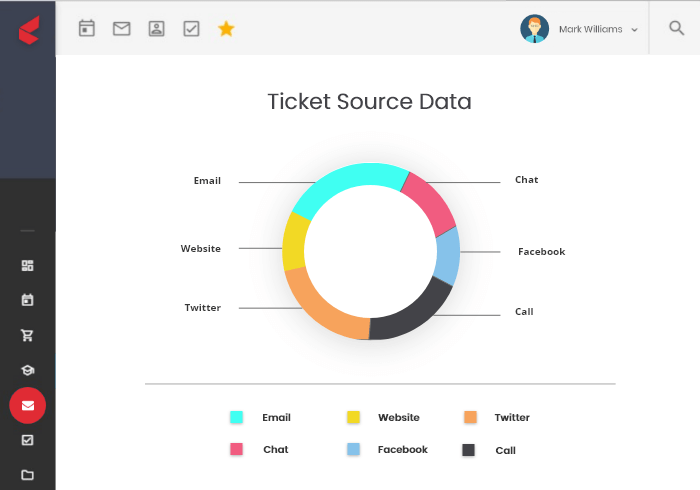 Helps your business reach out to a huge number of customers through mediums preferred by the customers themselves. In addition to this, it also increases strong engagement rates, leading to smoother management of the customer support funnel.
3. An Intelligent CRM
For customer service operations to run smoothly it is important for businesses to choose the most effective and efficient customer service tools like Kapture CRM. Intelligent CRMs increase productivity levels, efficiency rates, enhance workflows and help customer service operation teams deliver the best help desk experience to customers.
4. Live chat help
According to a report by Forrester, customers who use online chat platforms are 2.8 times more likely to convert than those who don't. Live chat helps businesses increase customer onboarding levels, customer acquisition rates, generate leads and prospects, etc. 
What Is the Conversational Support Funnel and How Does It Help?
Conversational support funnel is another useful customer manage Conversational Support Funnel is a combination of customer management mechanisms like proactive support, self-serve, and agent support. This combination enables businesses to catch hold of problems even before they occur. It helps organizations predict potential setbacks or challenges in services and products or even in logistics.
This pattern of understanding a problem even before it arises helps customer support teams provide quick automated answers and solutions with the help of AI bots, etc followed by an assigned customer service rep to provide remediation to complex issues if necessary. This not only increases ticket remediation efficiency but also provides a personalized touch that improves the customer interactions process. 
Be it a Fortune 500 company or a start-up, customers tend to move towards businesses that have the best help desk support practices and well-maintained customer support funnels are one of the most evident indicators of good customer service practices. But improving customer support funnels processes can be challenging without the right technology.
CRMs like Kapture enables businesses to not only enhance customer support funnel processes but also help build a good brand image which ultimately leads to increased profitability. To know more about efficient CRMs click here for a demo.