As the business world is moving at lightning speed, every organization requires a lot of help from technology to keep up to the speed and run the business efficiently. Sales CRMs play a very vital role in this. While the CRM industry is coming up with great innovative ways to ease every executive's work, Kapture CRM is staying ahead of the game with its exceptional features. Most people ask us 'Why Kapture?'. Although there are innumerable numbers we could give, we have the highlights to show how different your business would be with Kapture CRM.
Customer data management at its best:
Kapture's ticket management system is so easy to access and the customer data management is so efficient that you need just seconds to pull out the required data. Kapture not just stores the basic customer data but links it to the purchases, previous tickets and categorizes the customer based on the order size, order frequency and customer behavior. The data to be captured can be customized for each organization
Filter Large data in just a few clicks:
One of the key features of Kapture CRM is its ability to manage large scale data with numerous parameters easily. The measurement and presentation of these too are very easy. Just a few clicks and the required piece of data is on your screen.
All systems go:
When it comes to CRM softwares, the integration of it with all the other existing systems becomes crucial. Kapture CRM is compatible with all systems. All Kapture needs is the API. Just plug-in, configure and voila! Your existing systems and their data is accessible on Kapture. This makes work so easy that all you need to do is to log in to Kapture each morning at the beginning of your work and that is all that you will need.
Like a personal assistant:
Most often, calling back the prospective client for a follow-up or a meeting that was decided on a phone call could be forgotten. Well, that's human nature. Kapture has an option to make notes after a call/meeting. This allows you to input the next meeting or follow up reminder. Kapture reminds you and also allows you to send the client a reminder mail about the meeting. Well, how great is that?
Mobility is the boon:
Kapture CRM has all its great functionalities available on its mobile app too. This feature makes field sales so organized. You can carry the entire product range for your pop-up stalls or when you meet a new prospective client, all your offerings are available at your fingertips.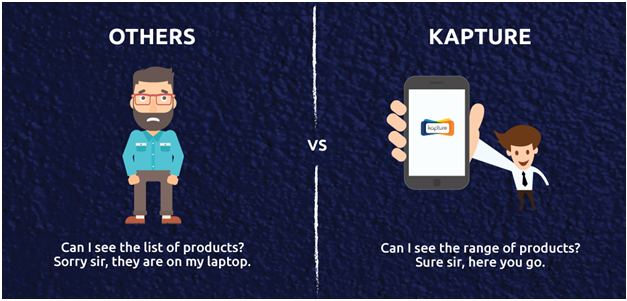 Technology that saves time and effort:
Kapture CRM allows you to customize your dashboard to show the data you need frequently. Pulling out the reports too is easy. You can segregate and export all the reports as and when and as and how you require. Whether you need it as pie charts or graphs, you can customize it as per requirement
While these are just a few key features that can ease your business, Kapture has unique features to offer based on the sector. Whether it is hospitality, service industry, FMCG or banking, there is a lot you can do with Kapture.