A conceptualized email consists of a CTA that converts. If your emails are already delivering your expected results then you have an effective strategy. Every email that rolls out from your email account, contains one quintessential element that you avoid.
I'm talking about your email signature. Others fall prey in realizing the true potential of an email's signature, you can avoid the pitfall of a poor marketing strategy. A personal email signature can provide a serious marketing opportunity that you're missing. By including essential information about your current campaigns in your email signature, you can take your marketing campaigns to the next level.
To nurture prospective leads and spread brand awareness on a larger scale, here are 6 bright ideas with examples to promote your offerings through a simple email signature.
Homepage
Many marketers tend to add their website's URL in their email signatures. However, in actuality, it should be least promoted. The extra information in the email directs the visitor's attention towards the action you want them to take.
Yet, if you're pushing your website address in your email, make sure that your homepage acts as a landing page. Offer a free demo, a trial service, etc. on the homepage so your visitor can take the action you want them to take. Here is an excellent example of our dear friend Hermione Granger.
Social Media
An email signature is great for offering your social information to your prospects. You can do this in 2 ways. Either include the links of your personal accounts such as Facebook, LinkedIn, Twitter, etc. Or include your company's links. Both are great and helpful options. Here is a helpful example:
Blog
Your Blog is one of the brightest things you can showcase in your email signature. It offers value to the community and gets updated on a regular basis. The fresh content on your blog section will engage more prospects than a static homepage. It will also retain your readers' attention for a longer span of time.
If you're giving your blogs a spotlight, make sure to include CTAs in your posts to encourage the consumer to take the next step and convert. Hyperlink your email signature to blog so your readers can cut all the chase and directly reach to your blog page. Here is a simple example you can learn from:
Book
Did you publish a book? Perhaps come up with an informative e-book? Here is how you can enlighten your customers about your knowledge that can help them. Share a link of your e-book and build authority. This will build credibility among the people you communicate with. Here is how you can do it:
Events
Are you planning an event or holding a webinar? Are you launching your own podcast? Include more information about your upcoming events in your email signature. It may not necessarily generate more registrants but it will certainly spread the word.
This will result in generating awareness among your potential prospects. Here is a good example of event promotion signature:
Marketing Offers
Several marketers plan & execute offers that generate leads and get relevant traffic. First, identify your best performing offers and then expose them to generate more traffic. Share a link in your email signature and highlight that particular offer.
Here is how you can successfully plant your marketing offer in your email signature:
Offer Free Demo
Offering a demo of your newly introduced service or product? Instead of creating a campaign to promote, try highlighting it in your email signature. This way, you'll be able to increase your traffic and also see the performance of your service or product. Here is how you can take advantage of this opportunity: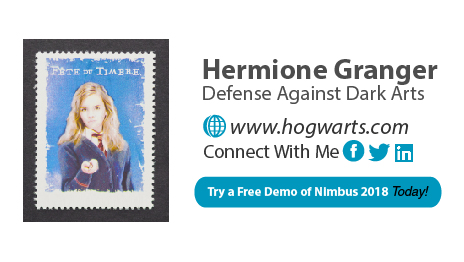 Are you ready to edit and create more informative email signatures? Share your views in the comment section below!!!
Now you know how to generate leads and aware your potential prospects about your offerings. Email signatures work wonders when combined with the right email especially designed for your consumers.