The days of customers staying with their bank forever are over. Customers are increasingly at ease transferring banks, with a plethora of banking services vying for their business. Millions of Google reviews let customers know who to pick!
Furthermore, banks are facing competition from fintech companies like Paytm, Stripe, Coinbase, Square, Zest money, Razorpay, Pinelabs, and several others. Due to the growing usage of mobile phones and internet connectivity, these neo-banks manage to draw a considerable number of customers from even rural locations.
According to research, 75% of those polled would choose their banking service provider based on great customer experience.
If you want to improve customer service and overcome the challenges of customer service in banks, a technological upgrade could be the missing piece. 
Here's how a Customer Relationship Management Software can help you improve the customer experience in the banking business, so you can retain and satisfy your clients.
Best Ways to Improve Customer Service in Banks
1. Anticipate Customer Demands for Segmented Marketing
Challenge: 
You can run

successful marketing efforts

only if your data allows you to do so. The 'one-size-fits-all' strategy cannot be used to layout marketing campaigns across diverse customer types. Unsegmented client data takes down marketing campaigns.

Young professionals in their mid-20s or early 30s with stable jobs, for example, are likely to buy a home in the future. How do you

determine the various customer personas

like this and

plan your marketing strategies

?
CRM solution: 
CRM software's analytics and

customer segmentation

features can aid in understanding customer requirements better. Segmented customer data helps you derive insights to let you communicate with customers based on buyer personas or attributes.

These customer profiles can assist you in personalizing financial products, upselling/cross-selling, creating targeted marketing efforts, and even designing loyalty programs and providing personalized

customer service in the banking industry

.
2. Gain a Deeper Knowledge of the Customer to Provide Personalized Services
Challenge: 
When customers are not provided with personalized services, they may feel disconnected from what you offer.
Image: Customer's personalization expectations
CRM solution: 
A

banking CRM

is a consolidated system that may combine with other banking software applications seamlessly to provide you with a picture of all of your customers' accounts. This lets CRM use customer data extensively to drive personalized services.

For instance, a bank might set up a CRM

to alert service staff

when a customer has a key life event. The salesperson can wish them a happy 60th birthday and suggest that they begin seriously considering retirement.

Additionally, Kapture CRM includes

language translation services

that allow your representative to communicate with consumers in their preferred language over communication channels.
3. Set Up a Gripping Onboarding Process 
Challenge:
According to a study by Accenture, nearly one-third of institutional clients abandon the onboarding process before completing it because they are so dissatisfied with the client experience. 
Onboarding can be tedious at times, and it frequently results in customer displeasure. 

Customers find filling out a large amount of information or visiting banks to complete the KYC tiresome. 
Balancing security and convenience shouldn't be difficult if you have a better strategy in place to ensure a more seamless onboarding experience. 
Hence, allow mobile app account opening facilities and collect only the most relevant data for account opening.
CRM solution:
Customer service representatives can use CRM mobile apps to upload scanned documents and digital signatures, making KYC easier. It eliminates the need for customers to present KYC at the bank.
4. Train your Customer Service Staff
Challenge: 
Being aware of the banking products/services offered by your organization, whether you're a cashier, manager, or service representative is critical to giving excellent

customer service in the banking industry

. 

Multiple regulatory changes

are typical in the banking industry in a single year, making it difficult for banks to keep up with staff training.

When banking rules change every year, it's critical to be able to

update information quickly

and easily without having to redo entire courses.
CRM solution: 
It's vital that all employees complete their training at an acceptable rate, and that any gaps be identified and addressed quickly. 

CRM's Learning Management System

allows you to make changes yourself and swiftly apply them to all of your courses. 

When training is offered on a broad scale, LMS with built-in analytics makes it easy to track training,

discover gaps

and make sure everyone is on the same page.
Image: Customer service tips
5. Empower your Agents to Work Smart
Challenge: 
A heavy workload, poor training, tedious repetitive duties, and dealing with outmoded technologies reduce the productivity of your employees. 

Employees who are demotivated are unlikely to provide the finest customer service. Over this, there is a high attrition rate among bank agents as well.

In the banking industry, there is a

wealth of information

about regulations, policies, and laws, all of which are subject to regular change under government guidelines.

Agents get frustrated if they are amid so much information, and they may find it too taxing to provide consumers with the precise answers to their questions.
CRM solution:
CRMs come with

Knowledge Management Systems

that can be used to store and access important policy documents, guidelines or manuals, and every other thing of high relevance. 

To aid comprehension, this information can be kept in the form of a pdf, videos, or flow diagram images. For

quick access to information

, banking employees can use web portal search engines to access a centralized knowledge base.

Let your staff seek help from a

virtual agent

. Kapture CRM comes with a remarkable feature called

'Agent Assistant Window'

that presents answers through a window when interrogated. Virtual Assistant, enabled by

Artificial Intelligence and Machine Learning

answers your agent's queries contextually and provides quick responses.

As a result, in a smart working environment, your

agents feel empowered

to provide greater service to clients.
6. Ingrain Positive Language
Challenge: 
Given a sensitive subject such as Finance, there may be times when you are unable to match consumer requests and must use diplomacy and empathy. It is vital to use the

right tone and positive language

when engaging with customers during their banking experience. 

Losing a credit card, submitting an insurance claim, or missing a mortgage payment can be stressful, so ensure that your help desk employees are using a favorable approach.
To understand customers' problems and walk alongside them, customer service representatives should have excellent communication, listening, and problem-solving skills.
When people come to see you, greet them with a cheerful attitude, eye contact, a smile, and offer personalized services.
(Source)
CRM solution: 
Canned responses,

which are pre-packaged ideal responses structured for each scenario, can be created and saved in CRMs. 

You may quickly insert them into your email and send them out to provide immediate solutions to your consumers' problems rather than having to type messages from scratch every time.
7. Offer Self-Help
Challenge:
A customer service agent's average call time in the banking sector is longer than in any other industry. This is due to the nature of the sector, which involves

lengthy and intricate processes

. 

Self-service kiosks, mobile apps, internet banking, and even online third-party support sites have all existed. But the absence of unification adds to its complexity. Furthermore, visibility of the complete customer journey is not provided to you. 

Agents will not have

insights into consumer interactions

across platforms if there is no end-to-end administration of the different applications in use. This annoys both customers and agents, in addition to increasing inefficiencies.
CRM solution: 
Technology can assist here by providing solutions that enable customers to accomplish more on their own through

self-service

. 

Consider alternatives to phone lines for dealing with frequent customer inquiries. In this manner, you may keep your phone lines less busy and free up your contact center for customers with more in-depth questions and difficulties.

 
CRMs offer self-help features such as,
Detailed FAQs, a Knowledge Base, and self-serve web portals

IVRs and Chatbots for help with real-time troubleshooting (Fix hassles of a forgotten password or something similar.)

Reporting on the most searched help topics can give you insights into identifying the root causes of a certain problem.
Image: Self-help powered by Kapture
8. Gathering Feedback on the dot
Challenge: 
Without customers' input, we can't hope to improve the customer service experience. Customer reviews provide useful information about their experience. 

Customers despise anything that takes time and effort. Customers, for instance, lose interest when they log into an online portal to fill out a lengthy form.
CRM solution: 
Include

links to surveys in emails

to make it easier for clients to provide feedback. Keep survey forms simple and to the point.

Capturing customer feedback

via mobile or email shortly after in-person visits helps you to measure sentiment while the experience is still fresh in customers' thoughts. This allows them to deliver more honest and actionable feedback. 

Keep track of your customer experience using

NPS, CSAT

, or another approach, and start analyzing what drives customer happiness (or displeasure). 

You'll know exactly where to focus your efforts once you've identified the drivers that are important to customers but aren't being met.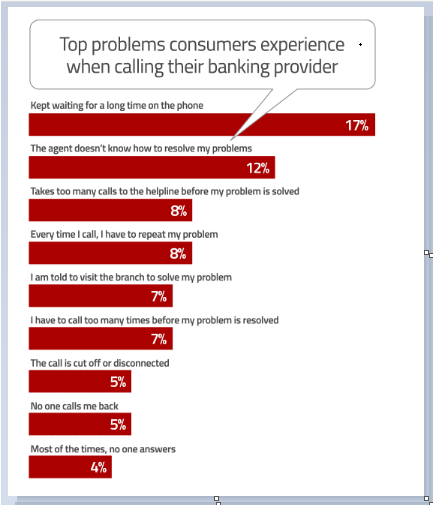 Image: Customer experience survey
9. Provide Round the Clock-Support
Challenge: 
Customers require assistance at all times. So, how can you provide help 24/7?
CRM solution: 
Chatbots,

which are clever automated digital assistants, can provide human-like responses to your customers long after office hours. 

Customers can use

self-help portals

to navigate through

FAQs

to find help topics.
10. Offer a Hybrid Communication Channel
Challenge: 
Customers nowadays interact with their banks through

numerous channels

. And how can you figure out which channel is the most popular among your customers? 

Although surveys can provide this information, conducting them regularly is a challenge. It's because, with so many social media platforms and chat apps vying for first place, customers' communication preferences are always evolving.
CRM solution: 
CRM captures customer inquiries via email, phone calls, chats, SMS, WhatsApp, and social media and routes them to its dashboard.

CRM's unified dashboard

enables you to reply promptly to clients across several channels without switching screens.

Additionally,

statistics

on the volume of queries generated through various channels will help you identify the customer's favorite channels. This allows you to

spot current trends

in your customers' preferred channel.
11. Analyze Customer Journey
Challenge: 
Banks are finding it difficult to

map consumer journeys

due to cross-device and multi-channel access to services. 

The

customer acquisition pipeline

has become a tangled system due to the emergence of multiple channels, and devices, making it harder to identify the impact of touchpoints on the customer. 
CRM solution: 
Customer journey mapping

lets you analyze the customer journey to help you identify the instances where customers abandon their actions due to friction. This way, you can quickly address any hurdles and retain more customers.

Outline the steps that each consumer takes to interact with your bank. Begin your journey map with the customer's first point of interaction with you. Carry on with all possible steps till the journey is over.
12. Reinforce Security
Challenge: 
Customers' data is handled extensively by banks and other financial institutions. As a result,

ensuring the security

of this data is something of utmost importance. 

If the bank makes a mistake or fails to safeguard the customer, the customer is almost certain to stop using the service again.
CRM solution: 
To keep sensitive customer data safe, financial institutions must invest in

technology-driven security measures

including end-to-end encryption and authentication. 

Advanced CRM platform providers such as Kapture are fully aware of these problems and offer strong security features to assure a high level of data protection, such as :
–role-based access permissions
-encrypted transactions
-data backups 
For security and access, CRM systems provide precise, role-based permissions. These roles can be created by the CRM administrator to guarantee that only certain parties have access to specified information.
13. Increase Workplace Transparency and Consistency
Challenge: 
It is critical to have

consistency in the workplace

to provide consistent customer service. You achieve meaningful results when you collect and analyze client data in one location rather than having it strewn across several systems or apps.

It is quite challenging to

draw a connection between the customer journey

on your website, in your app, and in your branch.

View daily plans, create events, track meetings, and get reminded about client appointments out of the unified CRM dashboard or through its mobile app.
CRM solution: 
CRM offers a simple and cost-effective solution where every customer data and work process is maintained at a centralized location thus expanding the visibility of your banking services. 
Image: CRM's unified dashboard
RBI's guidelines for Improving Customer Service in Banking Industry
(Source )
Training of staff in line with customer service orientation. 

Rewarding the best branches from a customer service point of view by annual awards/running shield.

Conducting customer service audits, and customer surveys.

Holding Customer relation programs and periodical meetings to interact with different cross-sections of customers for identifying action points to upgrade the customer service with customers.

Use of Hindi and regional languages in transacting business by banks with customers, including communications to customers.
Customer Service in the Banking Industry
A customer may take a chance on trying a new brand of mobile phone, but to switch banks, they need to be convinced. As a result, banks must demonstrate that they can provide clients with something that their competitors cannot, or that they can do it nicer!
Talking about delivering a positive banking experience, banks must overcome customer service challenges since competitors view customer service as a competitive weapon for differentiating their products and services.
People demand more channels, greater capabilities, and faster technical advancements. 
Customers and members of banking institutions expect more from their financial institutions than just service; they want insights, guidance, and appropriate recommendations.
The concepts outlined above on how to improve customer service in banks will enable you to explore alternatives to rigid processes that hinder change.
About the Author

Seema C Mohan
Seema C Mohan is passionate about all things XaaS and loves to write value-added content. She has been in Business Process Management in the past and has published technology articles in journals.