Real estate is a challenging but very rewarding field. The potential for turning a handsome profit is very real. 
Let's take a look at how your CRM can help you build real estate marketing campaigns.
Image source: gocrm.io
10 Ways to Build Marketing Campaigns with A Real Estate CRM
1. Categorize your leads
Categorizing your database of leads into sellers, renters, first-time home buyers, etc. will make it easy for you to design targeted real estate campaigns.
A real estate CRM allows you to group leads from your database into categories that are based on their real estate needs.
2. Focussed targeting
Once your leads have been categorized you can do targeted awareness campaigns, share content, and promote properties to relevant groups from your database instead of doing blanket real estate campaigns encompassing everyone.
There will also be a positive boost on your lead retention rate too, as your leads will be receiving information specifically curated for them.
3. Personalized content
Customer data generated from CRM software can be used to compile listings, information, and ideas for personalized and custom content.
With personalized content, you're likely to see improved response rates and brand loyalty.
That's a win for any marketing campaign and not just for real estate marketing campaigns.
4. Automate drip campaigns
Automated drip campaigns through emails or SMS are effective real estate marketing campaigns.
Once you've categorized your database of leads, you can program your CRM to automatically generate emails or SMS based on lead behavior like, which emails they opened, which topics they showed interest in, and what they've clicked on your site.
This keeps nurturing your relationship with a lead while nudging it further down the funnel.
Remember not to overdo it with the drip campaigns.
Your leads might unsubscribe from your mailing list if you flood them with too much-unwarranted information.
Program your automated drip campaign to send only emails and newsletters which cater to the interests of a specific group.
5. Automate email follow-ups
Setting up automated email follow-ups is a continuation of nurturing your leads and is also a part of real estate marketing campaigns. 
A CRM system ensures that any customer who has shown an interest in your business will keep getting continuous attention throughout their purchasing experience.
Depending on which stage of the purchasing experience a customer is at, a fruitful real estate marketing campaign done with a CRM will move customers further down the funnel with customized emails and information just for them.
Through this real estate marketing campaign you'll be able to track where the customers are at in their purchasing journey as well the level of commitment they're showing.
Accordingly, you can plan for their next step of the journey.
Referrals are also a big part of a real estate marketing campaign. The more referrals you have the more people will trust you.
You can automate email follow-ups to ask for referrals from customers who've journeyed through the whole experience with you and are now living happily in their own homes.
6. Use social media
In this digital age, everybody's online. So it figures that your customers will want to engage with you through various social media platforms. 
Integrating your CRM with different social media platforms and optimizing your site for mobile will help you to connect easily with your customers. Make this a part of your real estate marketing campaign. 
This real estate marketing campaign strategy will make it easier for you to showcase your properties, post content, and allow digital open house walkthroughs.
This is an added advantage for your customers who can view your listings from the comfort of their homes. This in turn notches up your company's user experience ratings, which is a good thing in any industry.
As part of your real estate marketing campaign, it's also a good idea to engage with various online marketplaces where you're likely to find potential leads.
Since buyers use online marketplaces to browse for listings or even to do research, it's a great place to create brand awareness and share your listings.
Once you start generating interest, you can utilize your CRM to turn those feelers into leads.
7. Measure and use your campaign data
By now you will have realized that any real estate marketing campaign should be based on the data generated from interactions with your customers.
Use that data to optimize your leads.
If your data shows that a certain real estate marketing campaign strategy did not have the desired output you can redesign your strategy and tweak it to suit your needs by going through the data generated by the CRM.
Since CRM generates real-time data, you can easily refine your real estate marketing campaigns to optimize conversions and boost sales.
8. Recycle campaigns that worked
Once you know which campaigns worked and which ones turned out to be duds, you can recycle the successful campaigns for new lead generations.
Recycling can save costs for your future real estate marketing campaigns and drive up conversions.
This goes to show that recycling is not just good for the earth but also for your company.
9. Utilize the centralized data storage feature of a CRM
A CRM software stores and organizes customer data in a centralized location.
Make use of this feature by analyzing the data to gain insights into your customers preferences and wants.
With this knowledge, you can be even more specific in what kind of listings and articles you curate for your customers.
10. Streamlined marketing channels
CRM software makes it easy to share and access customer information across all departments within a company.
When marketing, sales, and customer service start to work in tandem, it can create a powerful customer profile.
This will be very helpful in designing your real estate campaigns.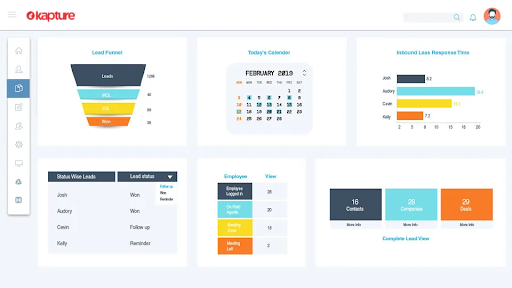 The goal of any real estate marketing campaign is to generate awareness and trust in your company. 
Creating a real estate marketing campaign by utilizing your CRM will help you to achieve your goals in a more systematic and easier way.
By incorporating the above steps into your real estate marketing campaign with a CRM, you can conveniently pick up new leads while guiding your current customers further down the funnel.
Why should you incorporate CRM into your real estate marketing campaign
A 2020 study has shown that '87% of buyers recently purchased their home through a real estate agent or broker, and 7% purchased directly from a builder or builder's agent.' – Source: www.nar.realtor
So it goes without saying that any real estate company worth its salt needs to have proper and well-thought-out real estate marketing campaigns.
The present generation of estate agents knows that hosting an open house and trying to make a sale has gone the way of the dinosaurs.
Customers have become more discerning and informed about their purchase decisions.
Closing a real estate sale nowadays involves giving the customer time and attention.
You'll have to nurture them, be aware of their exact needs and guide them by giving relevant information.
The best real estate marketing campaigns target the right groups of people at the right time with information that will be relevant to them.
For this to happen, effective real estate marketing campaigns use the help of CRM software. The use of software helps to spread awareness, track and gather customer information and promote sales as the processes are optimized to help teams to make more conversions and close deals.
In this modern digital world, real estate campaigns designed with the help of technology should be an integral part of any successful real estate business.
With Kapture's Real Estate CRM, building and designing your marketing campaigns can be a breeze. 
All of the processes required for your real estate marketing campaigns can be designed and implemented according to your needs.
Click here to know more.
About the Author

Elvis Richard Cormuz
Elvis hails from Darjeeling and has had vibrant work life experiences – a musician, social worker and freelance translator/transcriber, his hobbies include music, movies and reading.