"You cannot buy loyalty; you cannot buy the devotion of hearts, minds, and souls. You have to earn these things."
For a brand to earn customer loyalty and devotion, companies have to put in a lot of effort to make sure the customers are really happy with their product.
And to maintain customer loyalty, follow-up emails have proven to be one of the most effective techniques to get them hooked. 
But, did you know there are different types of follow-up emails you can write? Let's show you some of the best follow-up techniques you can use!
1. Welcome emails
Welcoming a customer into a product or a brand will always get you appreciated and add a personal touch.
Sending a welcome email with adrenaline-filled words and guiding them into the product is sure going to get the customer excited to see what's more.
There are two ways to do this,
Merge the welcome message and product activation points together

Or, create two different ones and send them like a step-by-step procedure.
Example:
( Source: getvero )
2. Post-purchase emails
Feedback or a review is not just for new customers, but also for the existing ones who actually have a lot more to say.
No matter how many repeat purchases a customer has on him, a follow-up email with instructions on how to use the product, or service tips and a request for feedback should be sent.
This shows that the brand actually cares about the customer and is willing to lend a helping hand for all your requests. 
Most importantly, all the improvement feedback and negative reviews should be addressed in future products as that's when a customer knows the brand is listening to them.
Example: 
( Source: TargetBay )
3. Notification emails
Letting a customer know about a new product, feature, website, or even the status of their account is an appreciated move.
There is a lot more probability of an existing customer considering a new product from the same brand or appreciating a new feature than a new one. 
On the other hand, even notifications for abandoned carts, discounts on wishlists, and recently added brands or products will get you more clicks and social media mentions showing care to customers. 
Example: 
4. Subscription and renewal reminders
This is one of the difficult email tasks to get people to act on almost immediately but is guaranteed to get people onboard for a longer time if the pricing strategy is right.
Offering to remind customers about a renewal earlier will give some time to customers to prepare themselves for the payment at their preferred dates before reaching the deadline.
With this, mentioning to customers about the discount they would be missing if paid late and letting them know they are a premium member will get that wallet out for payment.
Example: 
( Source: dimosr.github ) 
5. Feedback emails
Customer feedback is definitely the building block for a brand that directs a brand into the future and helps gain solid support.
Requesting feedback from customers that includes their preferences to improvements via emails will help brands gain a strong perspective about your products with ideas of the enhancements to be added.
After the first round of feedback, the follow-ups can also be done in the form of survey requests, polls, and written responses.
Example: 
( Source: Herothemes )
6. Appreciation emails
Appreciating the customers for their loyalty and support without any product promotion or additional marketing materials is always well received.
An appreciation email can include a congratulatory message for their purchase and state the change your product will create for the customer.
To add more value to the appreciation, a free subscription for a premium service or a discount coupon for other services or products will express your gratitude towards a customer.
Example: 
( Source: Sleeknote )
7. Testimonial emails
Testimonials are a longer form of feedback with a lot more details about your product and a human face attached to it. 
Start off by sending your customers a "Thank you" email and request them to leave you a public review.
According to the big commerce statistics, "72% of consumers say positive testimonials and reviews increase their trust in a business"
So, testimonials are highly valued attractors that people believe in making it more humane with words spoken from the actual users.
Example: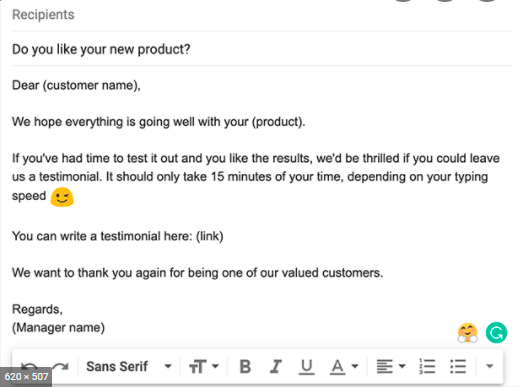 ( Source: 50poundsocial )
8. Re-engagement Emails
Repeated engagement approach with your customer should be very subtle and not too promotion centric or look like an email that is forcing a customer to upgrade. 
Choosing to do so might drive a customer away or end up with no action taken leaving you in a no approach zone. This can't get you any good reviews or testimonials in the future and will only leave you with a bad review or rating.
So, pick the right words to create email interactions with your customers and proceed only after some feedback, surveys, and customer progress tracking.
Example: 
( Source: Designmodo )
9. Personalized emails
Every customer would no doubt want to be differentiated and need his queries to be solved with utmost personalization.
Starting with your welcome emails to personalized offers, a tailored message for customers with offers or benefits will get you shares, appreciation, and loyalty for sure.
Also, asking about the customer status of a recently submitted query or experience of a product that was just purchased with words that evoke an emotion or shows care will get you the spotlight.
Example: 
(Source: Pinterest )
10. Informative Emails
With all the above-mentioned uses of emails, informative emails make a huge difference in the customer's minds.  
The blog on moengage says that brands that try to educate the customer with tutorials, newsletters, or any content that can hook your readers will be ideal.
This informative email approach will create a relationship with the brand and build a community of customers that have good knowledge about the product. 
Example: 
( Source: Sumo )
Increase your customer loyalty With Kapture
So, we've explained why a follow-up with customers through the different types of emails is necessary. 
In fact, Kapture provides businesses with predefined email templates that are personalized and save the agent's time. 
Agents simply have to make a selection from a plethora of email templates offered, sharing the required information with their customers.
About the Author

Sunith Ramachandra
Sunith Ramachandra says, "Content writing is all about using the right words for the right audience". At kapture he does exactly the same writing content to create conversations and conversions online.