The IT world is migrating to the cloud as more businesses recognize the advantages of a cloud-based approach. Traditional models have various flaws that cloud-based models overcome, allowing for a more efficient way of working. 
What is Contact Center as a Service ? or What is CCaaS?
A Contact Center as a Service (CCaaS), also known as a hosted contact center, is a cloud-based customer service software solution that a company can subscribe to.
It can efficiently handle multichannel customer interactions holistically from both a customer and employee standpoint.
Contact Center as a Service (CCaaS) provides all of the features of an on-premise contact center system in the cloud.
As a result, businesses need to only buy the technology they need and also have it managed by a vendor to save money on IT, integration, and support. 
Furthermore, it facilitates scalability enabling contact centers to better serve customers as they grow.
Today, we'll cover all you need to know about CCaaS, from its benefits to how to choose the finest CCaaS for your business.
Benefits of CCaaS
CCaaS solutions have grown in popularity in recent years, for a variety of reasons. Read about its benefits and learn why most businesses are abandoning the on-premise and traditional call center systems in favor of contact centers. 
1. Better Omnichannel Customer Experience
When customers want to contact you, they prefer to do so through their preferred channel. You can address the needs of every customer with an omnichannel CCaaS approach. 

Contact center software allows agents to receive and respond to

customer inquiries from a single platform

, regardless of where they originate ( Live Chat, WhatsApp, call, social media, or email). In contact centers, this dynamic manner of working

helps reduce response time

.
Through deep integrations with various channels, Kapture's omnichannel platform directs customer requests streaming in from many sources into its unified dashboard.
2. Centralize Every Customer Interaction
There's no need for agents to jump between applications and risk missing something important when contact centers provide a centralized dashboard of interaction.

Moreover, working with a single application is essentially easier than working with multiple applications.

Agents perform better

when their jobs are made easier, especially when they are working under extreme time constraints and dealing with unhappy customers all day.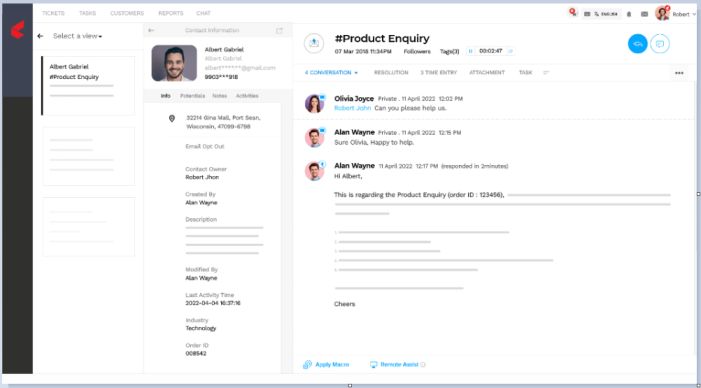 Image: Kapture's ticket dashboard
3. Ability to Self-Serve
Customers who have minor or routine service concerns may not require the assistance of a live representative. 

They can use

self-serve tools

within the CCaaS such as an

automated chatbot

to assist them in making purchases, canceling orders, and solving similar issues.
Image: Chatbot powered by Kapture
4. Increase Employee Productivity
Not only does a CCaaS solution help your agents provide faster service with the omnichannel communication approach, but it also helps improve employee productivity in many ways. 

Kapture's customer service automation systems let your agents create a more personalized customer experience through

virtual agents, chatbots, and workflow automation. 

Agents can engage with third-party vendors or partners using features like

side conversation,

that loops them into customer query requests.

Canned responses

also allow agents to respond swiftly to customer inquiries by incorporating the pre-written message into their replies.
5. Ease of Information Access
Contact center software integrations enable agents to maintain detailed customer data and to work simultaneously across internal systems. 

When all of your organization's data is housed in a centralized database, your service becomes cleaner and faster for customers. Your KPIs will also seem brighter as more issues get fixed at the first point of contact.
"An embarrassing 75% of a typical manual (agent-facing) support call is spent searching for client account information." –source
6. Scalability
The only method to handle business expansion in a traditional call center is to add more staff, more phone lines, and more computers. 

A CCaaS system, on the other hand, can

scale endlessly,

making it easy to add new services and keep up with rising customer needs.

Interestingly, your company only pays for the services it uses, which can be

revised at any time

. If you experience an unexpected increase in sales, you can adjust your plan to handle the extra demand, or you can scale back during the off-seasons.
7. End-to-End Business Analytics
Customer data collection and analysis are simplified with CCaaS solutions. It can

segment customer data

and help you understand who your customers are and what influences their purchasing decisions. 

This information can then be used to construct targeted ad campaigns to attract new clients. You can also utilize it to figure out where you're falling short with a particular customer.

Using an omnichannel CCaaS system has the significant advantage of integrating data from several sources. You don't have to be concerned about data that is missing, duplicated, or incorrect. The data is available and ready for your AI reporting software, as well as data analysts and data scientists, to analyze.

Kapture's

reporting tools

help decision-makers to get the information they need right from the real-time dashboard. The built-in reporting capabilities automatically quantify vital data bridging the cause and effect gap. 
8. Cost Savings
There's no need to manage expensive hardware and licenses that need to be updated regularly to be effective. With contact center solutions you can do away with the need of having to manage the licensing for several siloed pieces of software. 

The

costs are transparent

, and you know exactly what you are getting for what you pay.

It's also easier to budget and create roadmaps for the future when you know exactly how much you are paying each month or year for the CCaaS service. 

You can also save on hiring new staff during peak seasons. The chat, self-service, and automatic routing are just a few of the technologies that let you serve more customers faster with fewer agents.

Cloud-based technologies necessitate lower capital expenditures, such as hardware and telecommunications. 

Unanticipated expenses such as unplanned outages and repairs are also decreased, as are operating costs such as hardware upkeep.
 "90% of contact centers that switched to the cloud did so for financial flexibility."– source
What are the Differences between Ucaas and Ccaas?
CCaaS (

Contact Center as a Service

)

is used to improve inbound and outbound business channels such as customer service and sales whereas

UCaaS (Unified Communications as a Support) is mostly used for internal communication to improve team collaboration.

Even though many of their features and benefits overlap, UCaaS and CCaaS provide various capabilities to your business.
Understanding the differences might assist you in determining which cloud-based platform best matches your requirements.
How to Deploy CCaaS?
Here is the list of items to concentrate on to successfully deploy a CCaaS:
You require internet access, workstations, and headsets to deploy CCaaS. The rest of the infrastructure is taken care of by the CCaaS provider. 

Customize your company's IVR, automatic call distribution (ACD), and workflow automation before you sign into the contact center to begin responding to support queries. 

The supervisor can keep an eye on call queues, team availability, and call tickets that have been closed, among other things.

Export contacts from the former application.

Understand your customer contact channels.

Assign user permissions.

Plan call flow for incoming calls and tickets.
Kapture provides expert onboarding services so you can plan and launch on time. 
According to Gartner, a contact center as a service (CCaaS) would be the preferred deployment model in 50% of contact centers by 2022, up from about 10% in 2019.-source
Choose the Best CCaaS Platform
It's simple to see why businesses are flocking to the cloud at such a rapid pace. The cloud, unlike on-premise solutions, is highly scalable, adaptable, and offers transparent pricing.
CCaaS is slowly gaining traction as the preferred method of achieving customer expectations – but picking the wrong one is easy. Therefore, we've compiled a list of items to consider when selecting the best solution for your business. 
The following are the key features to look for in a CCaaS:
Automatic Call Distribution (ACD)
A contact center system efficiently routes calls to the appropriate agent based on predefined criteria such as region, skill, availability, and so on. 
Call center agents can manage calls for which they have been equipped with. This will improve their productivity while also increasing their confidence in dealing with calls.
Also, responding quickly to a call by moving it to the most relevant agent will increase the likelihood of a first-call resolution, and the customer will be able to settle his or her issue without being transferred to other agents or departments.
Routine queries can be easily answered without any human interaction using automated AI customer services, such as interactive voice response menus or chatbots. This frees up your team to focus on the customers who are in desperate need of assistance. 
Chatbots are a great example of how automated customer service solutions can help brands and customers connect more effectively. AI customer service can be used by contact centers to create intelligent virtual assistants or chatbots that can reply to inquiries contextually.
Organizations can gain end-to-end visibility of every engagement with real-time and historical reports, in addition to seeing everything on a single screen. 
The key to improving customer experience and agent performance is to track trends, identify training gaps, and ensure compliance in all interactions. 
View sample dashboards and reports to see if the data is robust, aggregate, and easy to change, tweak, and share. 
Integrations ensure that you don't end up with something clumsy or difficult for end-users. Everything, from new applications to third-party systems, is easily merged on a single interface with leading CCaaS solutions. Furthermore, reporting across all applications may be done and seen on a single screen and hence managing several on-premises platforms is no longer necessary.
While evaluating CCaaS solutions, compliance laws are a crucial issue to consider. If your company needs to adhere to specific rules, make sure the CCaaS platform you choose conforms to them. Some of the prevalent compliance regulations are HIPAA, GDPR, and PCI.
CCaaS (Contact Centre as a Service), helps businesses create the ideal contact center for them using a scalable, cloud-based infrastructure. Kapture's Contact Center solution help companies establish the perfect contact center with CCaaS, which includes support for remote workers and access to cutting-edge technology like AI and machine learning.
For growing teams, our omnichannel contact center prioritizes digital-first experiences, delivering contextual information and intelligent virtual assistant help.
Companies get access to a highly adaptable platform within our contact center that integrates with cloud telephony, eCommerce, and social media for better back-end collaboration. With a variety of customizations and platform integration options to explore, the system is also very flexible and responsive to your needs.
About the Author

Seema C Mohan
Seema C Mohan is passionate about all things XaaS and loves to write value-added content. She has been in Business Process Management in the past and has published technology articles in journals.