Using data and leveraging it to improve experiences for customers is the best-chosen path to reach customer success in any business.
Here in this blog, we speak about how data can be used to improve customer experience in the FMCG industry and enhance their interactions with a brand to boost retention rates.
So, why do you need customer data in the FMCG industry?
Simple, using customer data like all businesses do to achieve better sales numbers and profits by offering consumers what they need.
Collecting data from your customers can help you to understand and customize almost every part of your business to offer the services that are most liked by customers.
Now, let's talk about customer experience in the FMCG industry and see the plus points of collecting customer data.
Here's how customer data improves the customer experience in FMCG companies
"76% of buyers think companies should understand and anticipate their needs". (Source)
Building on the above quote, this understanding and anticipation can be achieved by using customer data.  In the steps below, let's see how to achieve better customer satisfaction with FMCG products.
1. Marketing ROI Improvement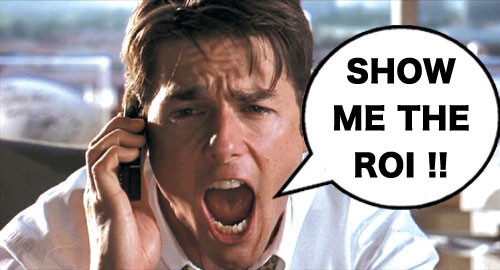 ROI in marketing has always been on the rise with the right targeting audience for particular campaigns.
Gathering as much data from different customer touchpoints such as point of sales, social media communications, and recent buying history can allow FMCG companies to launch customized marketing campaigns.
In this customized campaign, FMCG brands can create personalized messages to their targeted buyers on communication platforms and attract them to products.
One of the prime examples of using customized marketing campaigns would be to use up-selling and cross-selling techniques for an e-commerce platform.
For instance, if a customer gets one product from a brand, then a recommendation email for an extra product with purchase links would be sent further enhancing the product experience.
This recommendation would likely lead to purchase as the product messages promise to improve customer experience with the product.
2. Better Promotions
Big spending happens from FMCG brands for promotions and advertisements every year and targeting can be done more precisely with customer data.
Access to data that can be collected online includes demographic information about their frequent buyers, gender, and spending behaviors according to different locations.
Using the data above along with events, festivals, and weather of a targeted location, promotional advertisements for the products can be launched accordingly.
For instance: The use of sunscreens and lotions is more in the southern part of India due to the hot and humid climate compared to the northern part.
On the other hand, the winters are severe in the northern part of India, prioritizing a different set of facial creams and body lotions.
So, the FMCG companies can use this information to set location-based targeting or launch demographics-based advertising campaigns to reach buyers from both parts of India.
3. Intuitive Store Sales Leverage
E-commerce has considerably eased the shopping experience for many, but the physical stores still attract a vast majority and need as much focus as an online store.
FMCG companies can leverage customer data to offer superior shopping experiences at the stores by understanding their preferences better.
Utilizing techniques like product positioning inside the store, set pricing, and arranging inventory for future demands can boost the planning of better strategies, eventually improving the customer experience in the FMCG industry.
The data can vary from customer purchase details made in the past to individual buys based on trends, budgets, and age.
That's not all, physical stores can also be used to collect data using surveys and feedback to improve their in-store experiences for customers.
4. Utilization of Big Data Analytics 
Big Data Analytics is one of the trendy solutions used by FMCG companies now. 
They play a vital role in creating value for the customer and achieving better scalability of processes in business with increasing production to meet the demands.
With big data analytics, customer data is evaluated with cloud technology for the right business decisions. 
Also, these analytics offer a complete view of customer data across different segment categories with real-time updates allowing better targeting for marketing campaigns.
5. Mapping Your own customer Journey 
Using customer data, FMCG companies can map customer journeys and improve them effectively. 
This totally depends on the company and should be willing to move ahead with the latest trends in the industry. 
Mapping customer's journey by companies lets them understand the customer needs and work towards a path of retention and satisfaction. 
Benefits of collecting customer data
1. An In-depth understanding of your customers
Knowing what your customer needs and in turn offering the tailored products will get you noticed online and offline with an increase in customer satisfaction with FMCG products.
An analysis of customer buying behavior, interactions with your products, segmentation, and a demographic overview will give an idea of areas of improvement in your brand.
Charting out development plans that can be implemented on products will help in enhancing the customer experience.
2. Updated Consumer database
Updating your consumer database with new features and reaching out to interacted customers will boost the lead generation efforts.
Interacting with the customers about the future improvements that will be implemented into the products and its iterations will help in product upgrades by customers.
Collection of customer data no matter from which channel it comes from can be utilized to grow your brand awareness.
3. Improvement of marketing strategies
For successful marketing campaigns, data segregation and targeting play a vital role.
Personalized messages or products from a brand can be sent only to some targeted customers and can't be viewed by others.
Marketing products or boosting ads only to certain demographics can be done using customer data to enhance their experience.
4. Easy Personalization
Data Collection enables better personalization with messages and suggestions for customers.
The best part is that the data collected from the customer can be segregated based on preferred products, and most used devices for buying products from the website.
With the available data, one can even analyze the best time of the day or in a week with maximum website visits and buys.
A good customer experience in the FMCG Industry is….…
62% of customers said that businesses should focus on implementing "simpler, more flexible and more affordable customer service options" to make them purchase their products. (Source)
Over the years, the expectations of customers have grown larger with wanting a brand to create a complete product experience for them when interacting with them online or offline.
Training the support staff or people interacting with customers directly with the best possible customer service skills will be ideal. 
Creating an effective customer experience strategy for everyone in customer support teams will be ideal to offer a good customer experience in the FMCG industry.
The best solution for enhancing customer experience
Looking to improve customer experience? Here is a tool that can enhance your customer experience in the FMCG industry and get you that 5-star rating.
Kapture is enterprise-grade SaaS-based customer support and service automation platform that eases customer support processes for FMCG industries. 
With features such as 360-degree customer view and support platform integration, our platform helps your businesses reach high customer success rates in simple steps. 
Want to know more about our FMCG CRM Tool? Book a demo with us here.
About the Author

Sunith Ramachandra
Sunith Ramachandra says, "Content writing is all about using the right words for the right audience". At kapture he does exactly the same writing content to create conversations and conversions online.