Pharmaceutical compliance training pressures have always been higher. With the COVID-19 pandemic sweeping the globe, healthcare and pharmaceuticals have become a top priority for all nations.
Therefore, in an industry such as pharmaceuticals, it's crucial that employees are properly trained and that companies are able to scrutinize training to cope with the complex business environment.
Large-scale seminars and lectures are time-consuming, as it urges pharma experts to take time away from their workplace to commute to training centers frequently.
Additionally, as workloads grow, such as with changing regulations or compliance laws, your training must adapt to meet the demands of the business. To be on the brink of compliance, continuous training is required to stay current with changing drug development and distribution laws.
Impact of LMS on the Pharmaceutical Industry
A robust Learning Management System, or LMS, can help you succeed in the pharmaceutical sector by helping you avoid costly regulatory fines, lawsuits, and employee attrition.
Let's take a look at how LMS impacts pharma businesses' capacity to deliver successful learning.
Regulations and Compliance
In a highly regulated business like pharmaceuticals, training is required in every area, from manufacturing to quality control.
Companies can provide customized training, such as country-specific training (to ensure compliance with the country's laws) or role-specific training (sales, testing, R&D department), with the use of a pharmaceutical LMS.
The automation capabilities of the LMS assist pharma companies in launching their new product training in a timely manner. 
It's not only inconvenient to take employees out of the office for instructor-led training, but it also slows product development. 
Additionally, you can provide personalized training to a wide variety of departments to satisfy the training objectives of diverse learner groups. When you use an LMS, you can update training at any instant and distribute it to new and current staff. 
LMS supports multiple file types, allowing you to upload training content in a variety of formats- increasing the attractiveness of training materials and fruitfully conveying complicated subject matter.
Image: source
Compliance issues are a typical incidence in the pharmaceutical sector, and such issues occur primarily due to:
Lack of clearly defined procedures and SOPs

Not-having real-time access to data

Lack of communication and collaboration
Adding to the challenge, the company must keep up with government-issued product standards and guidelines, which are constantly changing. 
Instructional information for a given topic expires when government laws for that product change. If you don't retrain your staff on the new process, your company risks falling out of compliance.
It is also necessary to record and document all pharma compliance training for the purpose of conducting extensive audits.
Non-compliance issues can be prevented with the use of a top-notch learning management system. The web-based learning framework provides the accessibility and flexibility you need to satisfy the continuously changing training requirements while allowing you to focus on more important responsibilities.
In the long term, investing in the right LMS will not only save money by improving compliance management, but will also help you stay competitive in the marketplace.
Reports say "The Pharma industry crossed the worldwide revenue of 1.27 trillion dollars in 2020."
Also, according to the Indian Economic Survey 2021, "the domestic market is expected to grow 3x in the next decade. India's domestic pharmaceutical market is at US$ 42 billion in 2021 and likely to reach US$ 65 billion by 2024 and further expand to reach ~US$ 120-130 billion by 2030."
At this rate of expansion, the pharmaceutical business must hire additional employees to keep up with the demands.
Along with hiring you also need an appropriate solution to train staff in distinct teams, such as production areas, control laboratories, quality assurance, regulatory affairs, maintenance, stores, sanitation, and safety.
As a content repository, a learning management system for pharmaceutical companies makes knowledge transfer simple and stress-free. Having the training content at their fingertips boosts their confidence. Subsequently, LMS tracks the certification requirement and completion automatically, relieving them of the burden of manually tracking it.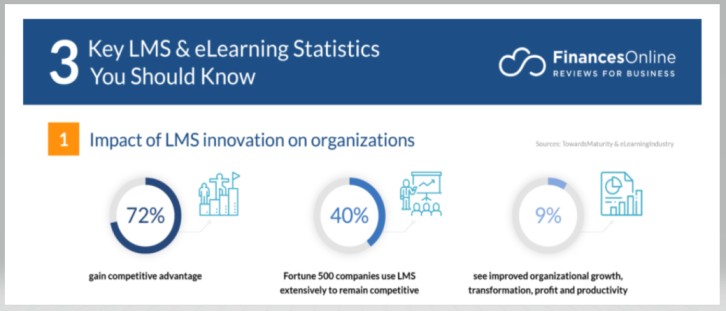 Image: source
A changing regulatory environment and processes in this industry make constant training and upskilling more frequent than in any other.
Hence, it is critical to ensure that a pharmaceutical company's staff is up-to-date on the newest information and abilities to keep them abreast of changing technologies and innovations.
The learning management system for pharmaceuticals from Kapture makes managing, tracking, reporting, and delivering training and induction programs a cinch. 
It allows your staff to be more productive and upskilled in order to maintain high-quality standards in their day-to-day operations.
As LMS assists in the delivery of training courses through the internet, companies can train foreign staff across countries to provide them with online remote instruction in pharmaceutical courses.
Doctors and pharmacists, for example, are external channel training partners who need to know about the product they are prescribing or delivering. 
A pharmaceutical LMS platform can help ensure that training is consistent across users and locations.
Benefits of LMS in the Pharma Sector
Regardless of how big or small a company is, an LMS can help it grow even faster without spending additional time and money on specific training. Here's how.
Availability of Updated Content
Pharmaceutical firms can quickly adjust or update training and content with Kapture's LMS solutions. This is an important feature since drug laws and regulations are continuously changing and learners will always have the most up-to-date information.
You can enable the system to automatically send a training alert to learners who need to be trained on the revised courses when you update the learning content.
When healthcare workers' work lives are demanding and grueling in all aspects, it's critical to provide them the freedom to learn according to their convenience. 
Your staff will feel comfortable if you provide seamless learning opportunities irrespective of time, place, or learning devices. 
Kapture's LMS's cross-device support functionality ensures that learning content looks the same on all devices, including desktops, laptops, cellphones, and tablets. Undoubtedly, this LMS feature leads to increased rates of course completion and employee engagement.
Automating Certification Programs
The bulk of pharma training requires staff to achieve certification. Instead of having to manually handle the entire procedure, LMS allows you to automate the process of creating and sending certificates.
Custom fields, text, and names can all be added to certificates so that your learner receives a personalized certificate.
Flexible Learning Options
For an LMS, flexibility essentially comes down to the following:
Users can learn courses using a variety of

quizzes and examinations.

Upload

personalized content,

to cater to the needs of distinct learner groups.

Automate

enrollment, assessment, and tracking of courses.

Send notifications

depending on pre-defined triggers tied to specific actions, such as course completion.

Make courses and content available solely to the target audience, simplifying the process of identifying appropriate training modules and facilitating

role-based management.
Image: Kapture's LMS
LMS can save training expenses by removing the need for extra travel and infrastructural costs associated with in-classroom training.
Upload learning modules in LMS ranging from text-based to multimedia-rich information, with visual aids to enhance the learner's experience and information retention.
Also, you can implement content updates at a far reduced cost since you do not have to reprint the material to create revised course content.
Assessments and surveys can assist pharma companies to obtain reliable feedback on the training material directly from learners, allowing them to improve the content's quality.
You can send automated survey forms to collect feedback from learners at various points throughout the course.
The LMS survey tool from Kapture is designed to assist enterprises in determining user engagement. It's simple to use and implement, allowing you to get a sense of how engaged your learners are.
The surveys can be personalized to be sent to target groups, departments, or geographies, and can be set up in a matter of seconds. 
Furthermore, all responses are stored in one system, eliminating the need for third-party software.
A Learning Management System measures and monitors employee learning progress, and the results are presented in the form of built-in or customized reporting formats. 
Companies can generate comprehensive reports on the user's progress with just a few clicks. This facilitates doing a gap analysis of planned and completed training for employees easily.
The LMS can be set up to generate reports on a regular basis and to give an audit trail to help you fulfill all of your auditing requirements.
Reporting and analytics can be utilized to evaluate learning effectiveness based on course completions, quiz results, and milestones met, as well as to determine whether extra training is needed. Again, auditable records of these evaluations are available at all times.
Kapture's Learning Management System for Pharmaceutical Industry
Training, learning, and tracking must all go hand in hand to keep up with the pharmaceutical industry's knowledge economy, where a lot of research and breakthroughs happen every minute.
Kapture's LMS platform can help pharmaceutical companies improve profitability and operational efficiency by providing standardization to the pharmaceutical compliance training procedures.
Traditional training is costly, from the expense of renting space for your training activities to the cost of printing booklets to the cost of paying instructors.
You can train anywhere from 5 to 50,000 employees or more with Kapture's cloud-based Learning Management system.
From course programming to employee registration, Kapture's LMS manages the whole training program. There are no tough procedures in the installation process.
Sign up for a 30-day free trial of Kapture's LMS to learn more about how an LMS can help a pharma company make a positive impact.
What's more, we can give you firsthand experience and insight into how an LMS can improve your organization's training and collaboration.
About the Author

Seema C Mohan
Seema C Mohan is passionate about all things XaaS and loves to write value-added content. She has been in Business Process Management in the past and has published technology articles in journals.