Interacting with customer service representatives and explaining to them a small issue is hectic and time-consuming. You don't want to lose 10-15 mins of your day navigating through the IVR system and then explaining why you want to return the product you ordered. 
Customers want immediate and seamless answers to their difficulties. Some people are accustomed to traditional phone service and have difficulty embracing a chatbot because they believe it is a robotic contact devoid of human touch. Customers, on the other hand, are becoming more open to new technologies, especially if it implies a speedy response to their problems.
Chatbots have become an essential element of people's life. Chatbots are trained to respond to requests with rapid responses in nanoseconds. Without chatbots in the business, it is impossible to match customer expectations of getting seamless and fast resolutions from your brand.
Here are some statistics that can help you understand how chatbots can have a great impact on your business.
Chatbots can save businesses as much as 30% on customer support costs

Chatbots are predicted to save businesses $ 8 billion by 2022

Chatbots are predicted to save businesses 2.5 billion hours by 2023

68% of consumers like chatbots because they provide quick answers

Chatbots handle 68.9% of chats from start to finish
The goal of building and developing chatbots for business and incorporating chatbot features is to improve customer communications and provide real-time answers to your customers' questions. Customers who are involved are more likely to be retained, which leads to increased business growth. Customer retention and engagement are critical for any business in the long run because loyal/retained customers generate the majority of profits and revenues.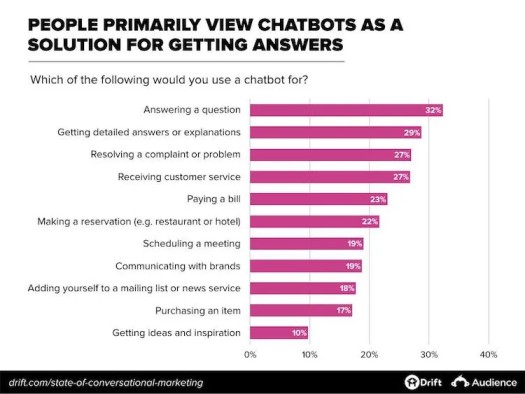 What makes a chatbot successful?
A chatbot that helps in creating a meaningful conversation experience and delivering the best resolution in less time is considered a successful chatbot. 
Chatbots, like customer expectations, have evolved. Customers today will not accept less-than-ideal experiences. So, if you've decided to include a chatbot in your customer service strategy, choose a solution that is simple to implement and capable of providing seamless customer experiences. 
Customer support Chatbots can assist you in providing a consistent, on-brand experience to your customers. There will be no "we don't say that" situations because you control the voice, tone, and language used in your bot's responses.
Here are some chatbot features required for a successful deployment and an intuitive customer experience.
Contextual and accurate resolutions
Chatbots must be able to understand context so that customers feel as if they are speaking to a real person. Bots can be made to understand context without asking validating questions by leveraging advances in natural language processing (NLP).
It takes intelligence to understand the urgency and complexities of a conversation. Even if an online order chatbot algorithm does not understand the query, it can intelligently route the conversations to human support.
Interactive and user-friendly UI/UX
AI chatbots should not be complicated to use; otherwise, they will be unable to make conversations interactive. The design must be simple and intuitive so that users can easily use them to find answers.
Empowered with a Knowledge base
The chatbot should have the ability to integrate with the knowledge base to extract information and deliver contextual resolutions. Bots are automatically updated with the right information when you keep on updating your knowledge base and can deliver the most accurate resolutions. 
Personalized and unique user experience
Bots built with AI and machine learning can understand user interactions and respond right away. To provide personalized experiences, a customer support chatbot template can change the tone and language.
Why does your business need an AI Chatbot?
When you empower your customer support system with an AI chatbot, customers can get resolutions in a few clicks. Chatbot adoption is increasing in the market because it enables brands to meet evolving customer demands in real-time while also lowering the cost. The benefits of chatbots to businesses are enormous. 
Chatbots allow for more direct interaction with users. Bots are the best business tool for keeping users engaged on a platform by initiating and maintaining a conversation. Chatbots display specific information at a time; however, the interaction progresses with user-based input to provide better interaction and increase user trust.
The right chatbot platform like Kapture can assist you in developing your customized chatbot with features that meet your business requirements. Increase your customer satisfaction rate as well.
10 Key chatbot features that impact your bot performance
Here are some must-have features in a chatbot that can help your business deliver exceptional customer service.
1. Easy customization
The Chatbot system that you choose for delivering customer support must be very feasible, scalable, and dynamic. Customizing the look and feel of your support chatbot aids in maintaining the identity of your brand across all customer touchpoints. You should be able to customize the shape, color, and size of your widget with an easy-to-use editor to make it an extension of your brand. You can then deploy a chatbot with an elegant interface that matches your brand to set up a unique brand image in your customer's mind.
2. Emotional intelligence
A chatbot's emotional intelligence is required. It is now an essential component of any AI-powered chatbot of the modern era. They should be capable of studying customer personality traits and comprehending their tone and sentiment. A chatbot must be fully capable of setting the tone while interacting with the customer based on their emotional levels. As a result, a chatbot will be prepared to provide customers with a highly personalized user experience.
3. Quick chatbot training
One of the most exciting chatbot features is the ability to train the chatbot to perform complex reasoning on its own. You can integrate your knowledge base into the chatbot instead of manually adding and updating FAQs. The chatbot processes the data and can provide an appropriate response in seconds.
4. Visual flow builder
Building a chatbot should be simple and painless. It is made possible by the visual flow builder, which allows for zero-code bot creation. As a result, a bot can be created directly on the platform using a drag-and-drop chatbot builder. If your business requirements are straightforward, you can use the visual flow builder. You can manage your scenarios in an easy-to-use interface and create a powerful bot without any coding experience.
5. Omnichannel messaging support
Today's chatbots can disseminate critical information across multiple major channels. If a customer provides identifying information such as their order number, email address, phone number, or other personal data and the chatbot is required to transfer the customer to a website, that information is automatically filled into their order form. This makes it more convenient for the customer and reduces repetitive data entry. The information provided to the chatbot should be transferred fluidly and painlessly into all other channels.
6. Live chat handover
Your chatbots can handle approximately 80% of your customer queries without the need for human intervention. In addition, for more complex conversations, you can switch or direct interactions to live agents to better serve them. Customers can select or request live support through chatbots based on their needs.
7. Chatbot Analytics
The right chatbot software should have the feature to provide complete insights about all the activities going on in the chatbots. It should generate different reports determining the KPIs of the chatbots. Reports involving several queries received, resolved, types of queries, etc, should be there to evaluate the performance of the chatbot. 
8. AI-enabled
Rule-based chatbots are incapable of comprehending the context or intent of human queries. Artificial intelligence chatbots, on the other hand, are more advanced, can easily comprehend open-ended questions, and can improve their functionality over time.
AI-powered chatbots use Natural Language Processing (NLP) and machine learning algorithms to become more intelligent and can easily understand the visitor's sentiment to respond dynamically.
Because their function is based on bot flows that interact with each other, AI-enabled chatbots can create more dynamic and agile conversations. These chatbots can understand the intent of the conversation and easily mine previous conversations, allowing them to provide human-like responses and seamless customer experiences.
9. Multilingual capabilities
As the global business expands, more and more customers expect to interact with businesses in the languages and dialects of their choice. Multilingual engagement is also essential for all online stores and businesses with a global presence who want to strengthen customer relationships. Having a multilingual chatbot helps in building a sense of trust and personal connection among your customers. 
10. Integration with CRM platforms
API integration enables your chatbot to access data from platforms such as CRM solutions or product databases to provide relevant information or even connect the dots for the customer during the conversation. You can use an API to ensure that the chatbot collects data quickly and presents it to the customer during the conversation. This feature is useful, especially when the chatbot assists the customer in tracking order status or availability.
Kapture can help your customers get faster resolution
A bot solution with excellent chatbot features can greatly assist you in meeting your business objectives, such as providing real-time customer engagement, round-the-clock support, instant resolutions, and reducing the number of online customer queries. 
Integrating Kapture's chatbots can help your company deliver automated smart responses and efficiently meet customer service goals. The emphasis should always be on leveraging the features to achieve ROI and realize your company's true potential.
About the Author

Ankit Kochar
Ankit Kochar is a content writer at Kapture CRM who loves to write creative as well as informative content. He has worked as a creative and academic content writer in the past and has a keen knowledge of writing reports, essays and dissertations. His current field is helping him research and hone his SaaS knowledge.