When it comes to messaging the only application that comes to our mind is Whatsapp. Whatsapp is used by businesses for swift communication with their customers. 
If you've been utilizing CRM and Whatsapp independently, you'll know that juggling and switching between them are inefficient. The good news is that CRM integration with Whatsapp allows you to combine all of your customer interaction efforts into a single channel for a more efficient workflow.
In summary, the following are the primary advantages of using Whatsapp in your business are-
Improves relationships and connectivity- WhatsApp enables businesses to tailor their consumer engagements.

Marketing costs are reduced since WhatsApp is so inexpensive! It is practically free compared to the ROI you may obtain with this marketing channel.

Excellent Customer Service- With a WhatsApp Business API integrated with a CRM, businesses can deliver excellent post-sales support to their customers using a single platform.
Whatsapp is the most used messenger application in the world
Given below are some Whatsapp stats that will help you learn about the power of WhatsApp.
As per a report by WhatsApp, a total of 50 Million (5 Crore) Businesses use the WhatsApp Business Application, out of which 15 Million (1.5 Crore) are Indian Businesses. 

19.4 hours/ Month spent by each user on WhatsApp

100 Billion Messages sent daily

39% of users prefer WhatsApp as a channel for Customer Service

According to users, 33% preferred WhatsApp as they didn't need to wait for long to get their queries answered as they used to while raising tickets on the business' website.
Source: https://bit.ly/3OOVdOz 
What is WhatsApp CRM Integration?
The concept of Whatsapp CRM is nothing new, it is just like social CRM that is integrating your WhatsApp business account with the CRM. It allows you to bring all the data to a unified place and promotes better customer service. When the agents have complete detail about the customers who reach them via WhatsApp it becomes easier and faster for them to resolve the tickets.
Types of WhatsApp business accounts
There are basically two types of WhatsApp business accounts that are used by businesses in the market. They are-
Whatsapp business account

Whatsapp business API
Whatsapp business account
WhatsApp Company is a free app for Android and iPhone that was designed with the small business owner in mind. WhatsApp Business facilitates client interaction by giving tools to automate, sort, and reply to messages rapidly. It's also designed to look and function similarly to WhatsApp Messenger.
Whatsapp business API
The WhatsApp API was created to assist medium to big businesses who wished to utilize WhatsApp to connect with various clients on a large scale. Businesses may use the WhatsApp Business API to automate interactions through automated answers, WhatsApp chatbots, and interactive messaging.
In a nutshell, WhatsApp Business API assists enterprises in developing a customized communication flow that works best for their clients.
Whatsapp business account Vs Whatsapp business API
WhatsApp API is designed for businesses that wish to grow. Because WhatsApp Business App is designed for small businesses, it lacks capabilities like mass messaging to customers/leads, automatically triggered messages via integrations and APIs, and numerous logins and support dashboards.
WhatsApp API, on the other hand, has a plethora of conversation automation tools. Unlike WhatsApp Company App, WhatsApp API does not have an app or a front-end interface and must be linked directly to business software.
WhatsApp API is only accessible through WhatsApp Business Solution Providers or BSPs.
How to Use CRM with WhatsApp Integration?
Whatsapp business integration brings in a lot of benefits for your business. One of the major benefits is that it offers your agents a unified and automated dashboard. 
Once Whatsapp is integrated with a CRM it becomes easy for agents to manage all the data of the customers and provide an insightful solution to the problem on WhatsApp itself without switching any platform. 
The agents don't have to toggle between windows to search for the past order or payment history or any other details. They can easily perform all the tasks required to resolve the issue via a single platform after its integration with a CRM system.
Benefits of WhatsApp CRM Integration
It is said that organized and sorted data can help in delivering excellent customer service irrespective of any channel used for communication. Whatsapp is one of the most popular messaging applications used by businesses to answer the queries of customers. By leveraging the power of integrating it with CRM, it can be used to deliver a five-star seamless customer experience.
Given below are some of the benefits of using Whatsapp CRM integration in your business.
Quick responses & faster resolution
When your WhatsApp business is integrated with a CRM system, you can quickly reply and respond to incoming customer queries coming via WhatsApp. Agents have a complete 360 view of the customer like the past tickets, orders, or payment history. They have all the required information and power to resolve the query quickly and easily. 
CRM system comes with a centralized knowledge base that has the solution to every situation that may arise during a customer encounter on WhatsApp. The agents can leverage the power of the knowledge base to resolve queries in a faster and better way.
Omnichannel experience
Customers are the ones helping you grow your business. They should have the power to choose their own preferred channel to reach you. 
Deliver an omnichannel experience to your customers by integrating with Whatsapp. Reply and resolve queries coming from WhatsApp via a single platform after CRM integration.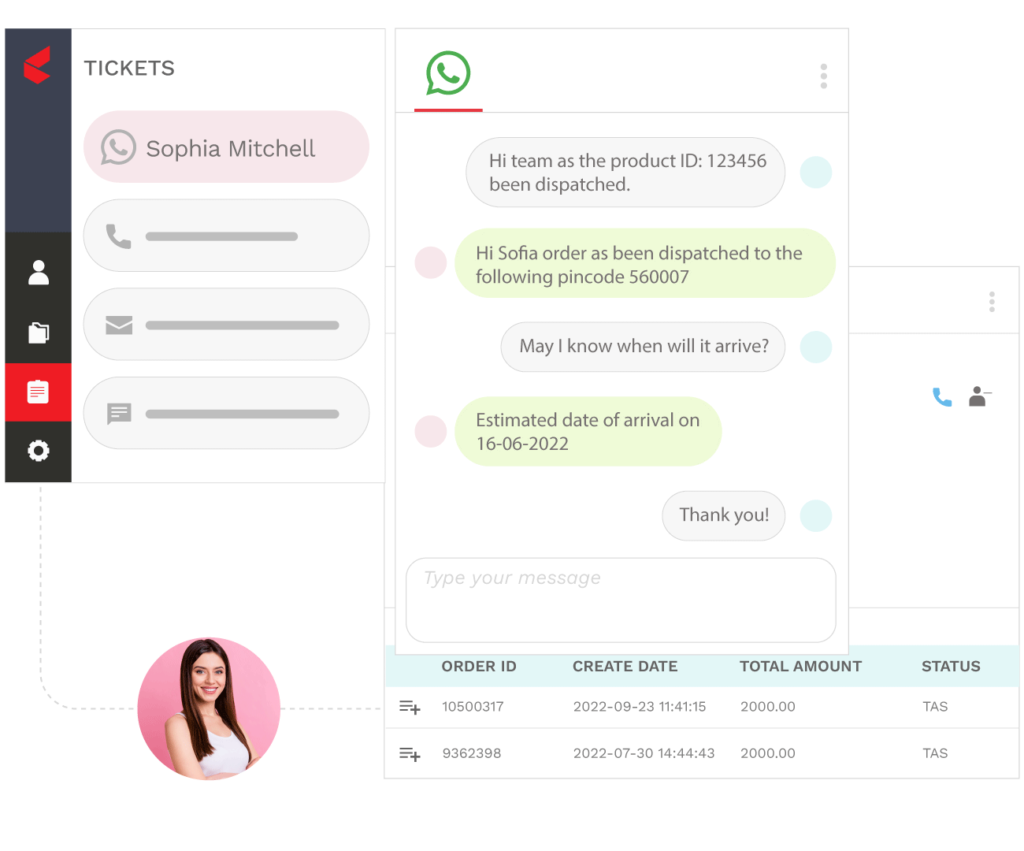 x
Instant and real-time messages
Consumers today expect to communicate with customer support via many media. Traditional methods like email and phones are included, as well as more handy ones such as live chat, social networking, and instant messaging.
With WhatsApp, your customer support team can communicate with customers all around the world using a messaging program that they are already familiar with. Customers may participate in a one-on-one conversation with a team member via live chat to ask questions, arrange a service call, submit a complaint, and more. thoughts of their target audience
Effective team collaboration
Internal team collaboration is an essential part of customer service. The internal team must be interconnected in order to provide faster resolution. 
For example, there may be a solution to some query or problem that the agent may not be aware of or need to ask permission from the supervisor to proceed with resolution. The CRM system comes with internal collaboration tools like internal chat to consult about the solution internally with the supervisor or other agent to deliver the most accurate resolution.
Order tracking
The CRM system seamlessly integrates with third-party logistics partners and empowers the WhatsApp business account with tracking order capabilities. The customers can track and view order details on WhatsApp itself without having to contact agents and ask them about their delivery status. 
Source – Statista
Automated messages
You may use the WhatsApp API to create a custom message flow that spans the length of a normal conversation and covers several discussion phases. Suitable for repeated operations and often requested questions, bespoke message flow allows you to cut response time and answer the most frequently asked queries in a human-like manner.
Collect Customer Feedback
Understanding your clients' interactions with your brand is critical to maintaining their business.
Customers are more inclined to reply to brief feedback requests since WhatsApp is an informal, conversational medium. Try asking clients to score their brand experience on a scale of one to 10, then follow up with a brief survey.
Get reports
A CRM system integrated with WhatsApp business helps you pull insightful reports for your business. Get reports like a number of queries coming via WhatsApp, a number of queries resolved, feedback reports, CSAT reports from the channel, and a lot more. 
These reports help in building a customer-centric service for your customers and create a sense of trust and loyalty among customers. When you analyze and incorporate the feedback it shows that you care about your customers and truly value them.
Pre-built templates
Prepare canned responses for your agents in the CRM system and save their time. Whatsapp integration with CRM allows you to set and respond to pre-defined common messages to the customers. The pre-defined messages can be greeting messages, thank you notes, or any other common messages.
Seamless customer service from WhatsApp with Kapture
Kapture's integration with your WhatsApp business API is simple, easy, and seamless. It brings a lot of benefits to your plate. After integration with Kapture, agents don't have to toggle between windows to provide the required solution for the queries coming via Whatsapp.
Agents also get an AI-powered assistant that can scan through the queries and provide the most accurate resolution based on the knowledge and past customer interactions. The assistant also self-learns the situations for future resolutions.
Kapture is a service automation platform that aims to automate most of the tasks for your agents to save their time and increase productivity.
About the Author

Ankit Kochar
Ankit Kochar is a content writer at Kapture CRM who loves to write creative as well as informative content. He has worked as a creative and academic content writer in the past and has a keen knowledge of writing reports, essays and dissertations. His current field is helping him research and hone his SaaS knowledge.