Sales and customer support agents always deal with multiple manual tasks that make them tired and also less productive. In times like this, businesses need to invest in technology that helps agents easily perform multiple tasks. One such technology to invest in is an intelligent CRM that is integrated within VoIP. VoIP integration with an intelligent CRM can not only help agents handle tickets but can also help bring in more leads. But what exactly is VoIP integration?
What is VoIP and why use one?
VoIP is an abbreviation for Voice over Internet Protocol, which explains how to make and receive phone calls over the internet. VoIP enables users to make voice calls using a computer, smartphone, other mobile devices, dedicated VoIP phones, and WebRTC-enabled browsers.
VoIP is a technology that is beneficial to both individuals and companies since it often contains additional capabilities that are not available with traditional phone services. Call recording, personalized caller ID, and voicemail to e-mail are examples of such services. It is also beneficial to organizations as a means of unifying communications.
VoIP is used in customer support as it saves cost and comes with a lot more features than normal calling. VoIP requires only a VoIP service package from a credible VoIP service provider and fast internet connectivity. VoIP allows for quick communication as well as many other features such as 3-way calling, video conferencing, call routing, and so on.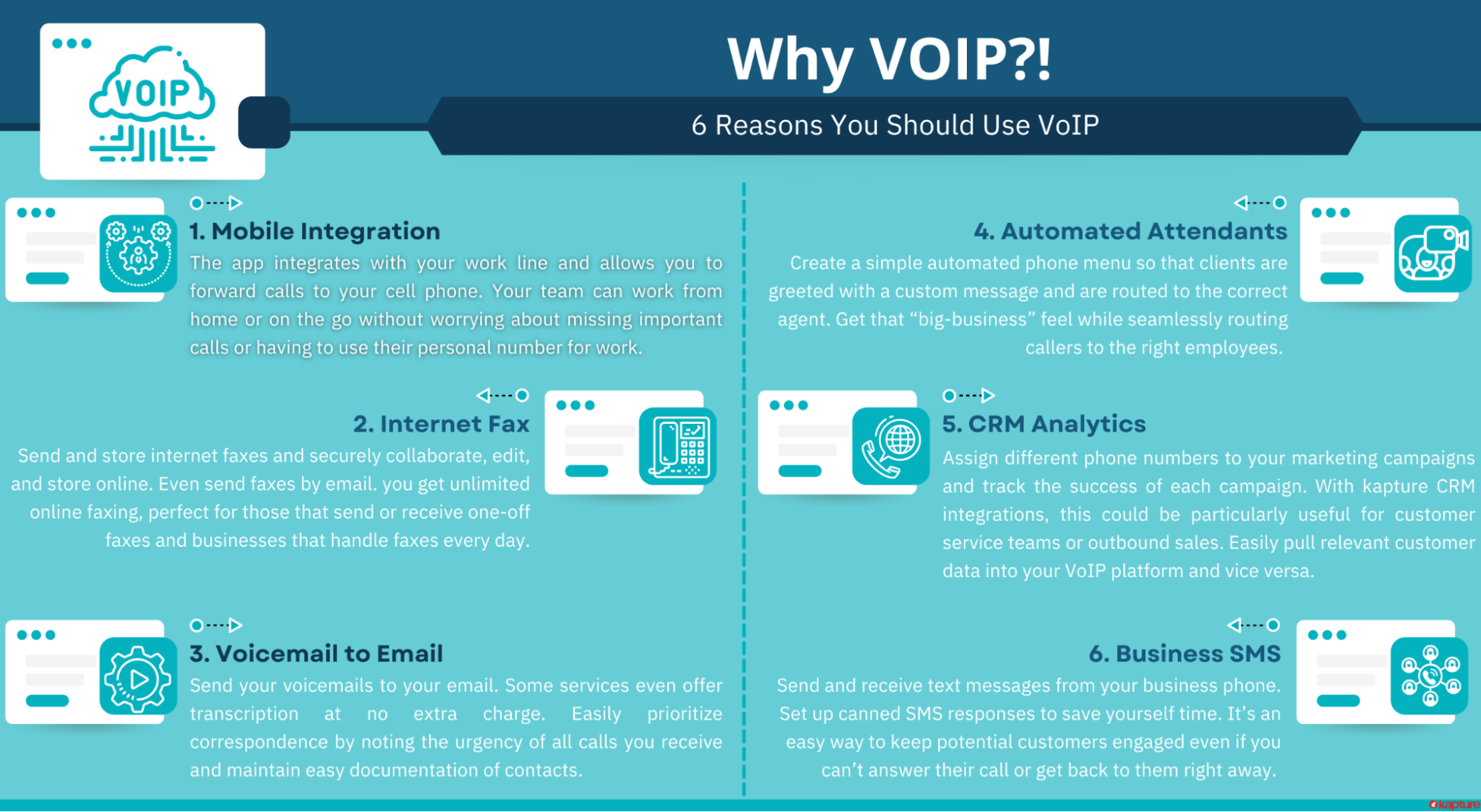 image source: crazyegg.com
What is VoIP Integration?
Simply put, VoIP CRM Integration is the integration of your VoIP phone system with your Customer Relationship Management system.VoIP integration is a way of combining various tools into your customer management system and phone systems which helps agents get rid of redundant tasks. When given an internet connection, a VoIP phone CRM can be operated on a variety of devices.
Agents make calls on an hourly basis and when the phone system is not a part of the CRM it becomes difficult and time-consuming for the agents to switch between the two systems to perform tasks. Switching between the two not only drains the agent's energy but also creates confusion which can lead to costly errors. All of this can be easily solved with just a simple VoIP integration with your CRM.
Advantages of VoIP and CRM Integration
From increasing agent productivity to offering a better customer experience, integrating your CRM systems with your VoIP can provide you with various benefits.
Helps you keep a check on valuable Call Analytics
Analyzing important call analytics is essential as it helps your business get a better understanding of all the important key performance indicators. With the right VoIP telephony and CRM integration software, you can easily record and analyze important metrics and keep a track of all customer incoming calls as well as outgoing calls.
With the Kapture CRM integration, you can effortlessly keep a track of the total number of calls received, the number of customer support tickets solved, the number of unsolved help desk tickets, and the amount of time spent on each customer call, etc.
Helps you collect data
VoIP CRM integration helps you collect data most efficiently. Once the collection is done it automatically organizes the data in an easily retrievable manner. When customer agents or sales agents want to close a lead, this data helps them curate their conversation or pitch accordingly. It helps agents catch hold of reliable individual customer data which also helps them solve customer problems in a much more efficient manner.
The VoIP CRM integration immediately syncs customer information from your phone system to your CRM software. Here the agent will be able to directly follow up with the customer ticket without having to refer to separate phone records or directories.
Reduces Operational Costs
Did you know that according to a study by Harbor Networks, Companies have seen a 20% rise in productivity with VoIP? A great thing about the VoIP CRM integration software is that it significantly reduces operational costs. Handling two different systems can not only lead to extra system costs but can also lead to more manual labor.
Integrating your telephony system with your customer management software can help your agents cut down on unproductive hours which in turn can significantly reduce manual labour costs. VoIP CRM integration contributes to increased productivity levels and better workflows which leads to better output and delivery
Make Post-Call tasks efficient
An agent's work doesn't end when the call ends. They have to perform a lot of post-call actions like updating calls or customer interaction details into the customer management software, etc. With VoIP CRM integration sales agents and customer support agents no longer have to manually record and upload customer interaction details.
Agents can now concentrate on other tasks as the VoIP CRM integration automatically syncs customer call data into the CRM from the phone system. This automatic syncing allows no room for error or faulty information and streamlines the customer data collection process.
Automate text messages
Most of the time customers might prefer text messages over calls. Another great feature of the VoIP/telephony CRM integration is that you can send automated text messages once your agents are done with a task.
These automated messages or SMSs can save time as well as financial resources. In addition to this automated messages can also lead to higher conversion rates and better customer experience. Agents will also be able to send out bulk messages and save a significant amount of time.
Helps you develop better Customer Relations
VoIP integration allows agents more space for better performance. This not only increases quality customer engagement but also improves the quality of help desk assistance being offered. Smooth customer interactions can lead to better customer lifetime value and also improve customer retention levels.
CRM phone system integration provides customers with a better and much more positive customer experience which also helps you increase CSAT or customer satisfaction scores. In addition to keeping customers happy and satisfied, CRM phone system integration also helps businesses keep their agents on their optimal performance levels.
Important stats you must know –
Businesses can save up to 75% on communication if they opt for VoIP. (Source -BullsEye Telecom, 2019)
VoIP can help save 32 call minutes per day. (Source – Cisco)
VoIP has 34 Million users in the USA, 31 Million users in Japan, and 22 Million users in France. (Source -Statista)
By integrating VoIP, businesses save 30% on teleconferencing. (Source -TechCo)
Businesses saved $1,200 per month with 30 users using a new VOIP system (Source -Harbor Networks)
Businesses saved $1,727 – business savings per month on mobile and long-distance calls using softphones—calls over VOIP using a computer (Source -Harbor Networks)
How can Kapture help
Kapture's intelligent customer relationship management system helps you deliver the best help desk service to your customers.
With Kapture you can now leverage the benefit of VoIP integration without any hassle. To know more about Kapture's intelligent Customer relationship management system click here to book a demo today.
About the Author

Namitha RV
Namitha R V is a freelance content writer and copywriter whose primary focus leans on B2B and B2C content writing. She has worked on several SEO projects and has a demonstrated history of writing for diverse content requirements like – Long form blog posts, Optimized Website content, Infographics, Ad copies, Social Media content, etc.