Customer service is what clamps your business to its customers. 
Customer service has evolved into a specialized industry over the past ten years as a result of changes in customer expectations and behavior as well as quick advances in technology. 
Businesses of all sizes find an opportunity in outsourcing customer service while pursuing their cost-saving initiatives. 
But is this the right choice for your business? 
Grilled with questions like…We are saving big on the costs but is all the cost-saving achieving its intended purpose of serving customers in the most efficient manner? 
Deciding whether to transfer the customer service calls to a different organization or not often puts business owners in a tight spot.
The points outlined in the blog would help you perform a risk-benefit analysis to find out what works best for your business. 
What is Customer Service Outsourcing?
Customer service outsourcing is a business practice where businesses hire a third party outside the company to handle the customer service process rather than using its own employees. 
Here, the external firm is the point of contact for your customers if they have questions, or inquiries about your products or services.
Businesses can outsource their entire support operations or a fraction of it such as peak-time assistance, department-specific support, and so on. 
There is also a wide range of solutions available such as multi-channel or omnichannel, onshore or offshore, and shared or dedicated services to choose from.
Why Do Companies Outsource their Customer Service?
Companies outsource their customer service due to many reasons. One of them is low operational costs. Some start-ups do not prefer to hire a full-time support team to cut down on their expenses. Also, as businesses scale, they find it difficult to keep up with the increasing demand for in-house customer service teams and equipment. 
Benefits of Outsourcing Customer Service
Here's a rundown of the benefits of outsourcing customer service to a third-party agency to help you make an informed decision. Discover what will benefit your company by reading on.
1. Cost-Savings
The main motivation for businesses to outsource their service is cost reduction. You can cut down on the space and infrastructure requirements, as well as the hiring, onboarding, and training costs. Furthermore, not having an in-house team means not having to pay the full salary including the employee perks. Therefore, your business can save thousands of dollars annually by outsourcing.
Making big savings by outsourcing to nations off-shore where the minimum wage is lower than your home country is another smart move.
2. Reduced Workload
Customer service is a very demanding responsibility. Due to the strenuous nature of the job, maintaining customer relationships and upholding service standards can all be very taxing on your part. Outsourcing customer service lets your internal team focus on the most important requirements of the business. This reduces your workload, which is especially beneficial if your business runs on limited resources, and frees up a fair amount of your bandwidth for key components of your growth strategy.
3. Flexibility
You can select flexible plans to decide the coverage of your service with respect to the time and type of service. Delivering 24/7 support or assistance during peak or holiday seasons can be overwhelming on your part basically if you are down on staff. In these circumstances, outsourcing customer service is helpful. Furthermore, you can also choose what channels- email, chat, calls, or social media- you want the service to be made available through.
4. Efficient Customer Service Management
Building a professional and highly skilled customer service team for handling customer service management, is a laborious task. You will have to put in a lot of effort in training the staff and setting up the equipment. On the other hand, if you decide to outsource, you get a specialist team that is well-equipped with the essential tools and procedures to manage your customer service. For just a fraction of the cost, the whole operation becomes much more efficient. 
5. Shorter Response Times
The call centers strive to deliver shorter response times. By employing more number of staffs, accommodating extended hours of support as well as leveraging the latest technology, the call centers can achieve shorter turnaround times.
6. Better Technology & Automation
To succeed in customer service, you must ensure that your presence is available on multiple communication channels, and this is possible only by way of an omnichannel integration of several platforms. Moreover, the prominence and obtainability of PCs and mobile devices leave customers expecting service from all channels they prefer to communicate, and even at times outside business hours. Third-party call centers usually employ state-of-the-art technology to deliver customer service in the best way possible. IVR, Artificial Intelligence, and Cloud Phone systems are examples of technology that help call centers address customer service calls efficiently.
Cons of Customer Service Outsourcing
Though outsourcing customer service comes with its benefits, review some of its cons because there will inevitably be situations where having an in-house team comes as a better choice. 
1. Chances of Decrease in Customer Satisfaction
This is one of the major concerns of business owners with regard to outsourcing their customer service. 
The chances of a decrease in customer satisfaction persist because you cannot expect the external hires to have the same level of passion as your in-house staff. So, on the one hand, when you expect your customer calls to receive the call center agent's primary focus, on the other hand, this cannot be guaranteed from their end. This is owing to the number of businesses they work for. You can solve this problem by having dedicated call-center staff handle your customer calls but possibly at a higher price.
And if you prefer to do it in-house, getting a contact center software solution for your business helps. When a major fraction of the customer service process can be automated and streamlined with the help of this software, you can operate at higher efficiency. Moreover, handling the customer service calls in-house lets your staff interact directly with the customers in ways beneficial to your business.
2. Missing Business Knowledge
The external firm that you hire may not have a good grasp of the organizational culture or values that your business upholds. It is, therefore, crucial to update them frequently to keep them informed about new products or services, changes in pricing or policies, and other ins and outs of your business. It is important to ensure that the customer service agents are sticking to your business protocols and providing customers with the most up-to-date information using a knowledge management system.
According to a study, "30% of customers feel that the most important aspect of a good customer service experience is speaking with a knowledgeable and friendly agent."
3. Instances of Data Isolation 
Another major drawback of customer service outsourcing is that the invaluable customer service data happens to exist in siloes not letting you gain insights as and how you require it. With limited control over the service data, you fail to identify an overview of issues troubling the customers, or requirement trends that unfold into future product development and other discrepancies.
4. Security Concerns
There may be instances during customer service calls wherein highly personal information needs to be exchanged between the call center and the customer. Therefore, the firm to which you have outsourced your business must have the standard enterprise-grade security certifications to ensure that the customer data remains safe and protected. Otherwise, the security issues can cost you the business reputation and money.
A study by PwC revealed, "81% of companies worldwide are concerned about the mismanagement of critical data by their outsourced call center agents."
Best Practices to Follow when Outsourcing Customer Service
There are no longer any exceptions or compromises when it comes to customer service and experience. One bad experience, the customer moves on. Understandably, this is why you are rather guarded in the matter of outsourcing. 
Assess the advantages and disadvantages before you choose to outsource your customer service. The best practices can serve as a checklist to help you when outsourcing customer service.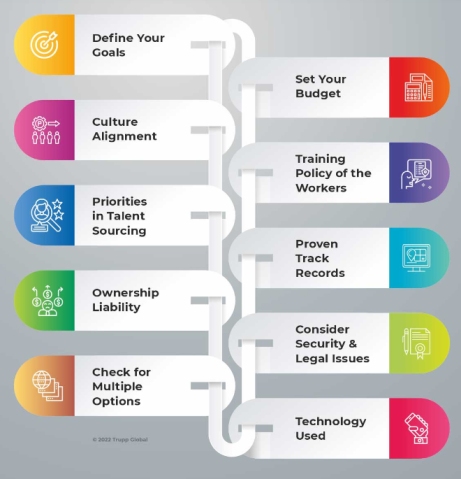 Image: Things to consider before outsourcing customer service 
Frame a list of objectives that defines exactly the why's and what's of outsourcing customer support– whether it is lowering the cost, increasing the service hours, or quality. Also, consider everything from the technology leveraged, skill-set requirement, and service hours to the type of contract you want to enter into.
Communicate your expectations to the outsourcing team precisely so that they do not fall short of accomplishing your goals. 
Take Control of Training and Quality
The customer service teams at the call center will be handling calls from multiple businesses at a time. Therefore, it is essential to make sure that they are well aware of your business values, technical details of your products and services, as well as how to handle your customers.
If you choose to outsource to an off-shore call center, you must take into consideration the linguistic and cultural barriers and any influence this may have on the brand sentiment. 
Take charge of the training by focusing on areas like your distinct culture and product technicalities that will be important to your brand perception and business using a learning management system. Additionally, it's crucial to keep track of the delivery of services in order to improve the service objectives. 
Regular Meetings and Review Discussions
It's critical to stay in close contact with the service representatives, to know what's happening in the customer service. This helps you clear the way for efficient service delivery by eliminating bottlenecks that surface from time to time. Such reviews would help you evaluate how your customer service is faring and what you need to improve to take the service to the next level. You will also be able to understand what product improvements you need to undertake to meet the customer's expectations.
Analyze the Success of Customer Service Strategy
When you are into outsourcing, monitor whether the results of outsourcing the customer service are in line with the goals you set out to achieve. Know how well you are meeting the cost goals, response times, customer satisfaction levels, and other strategies in your list. You should also analyze the performance of the customer service agent with respect to their product knowledge, communication skills, resolution rate, and so on to identify performance gaps if any. Communicate to them how often you want the satisfaction surveys to be run. In addition, seek reports from the call center periodically to measure the success of customer service. 
Choose your Call Center Carefully
Choose a partner who can effectively relate to your business needs, values and goals. There are numerous call centers to choose from that offer flexible services with respect to call volumes, specialization, and budget. Shortlist the service provider based on your unique business needs, such as the time zone, language requirements, expertise level, security concerns, and so on.
Do Your Research Before you Leap into Action
You have to make an informed decision on how to go with customer service since the quality of a company's customer service determines whether or not a customer will be retained.  
Making every contact positive and productive requires dedication and passion in the age of relationship marketing. 
Outsourcing or hiring a remote team, take time to carefully consider the pros and cons listed in the blog.
If you decide to outsource, examine the external firm's expertise level, quality control practices, training process, as well as other nitty-gritty that directly affect your customer service. Most importantly, analyze the risks associated with sharing sensitive information.
In-house service is the best option if you prioritize data privacy, and want greater autonomy over your data. In-house service will not be a problem so long as you manage it well by giving round-the-clock availability and providing excellent training to your employees. Kapture's contact center software is a one-stop solution for businesses of all sizes in managing their customer service in-house with absolutely no hassles.
About the Author

Seema C Mohan
Seema C Mohan is passionate about all things XaaS and loves to write value-added content. She has been in Business Process Management in the past and has published technology articles in journals.